Tourism management: Sarah loves travelling, different cultures and working with people
Why did you decide to study at HZ?

"When I realized that Tourism Management was exactly what I wanted to do, it became very clear to study it abroad since it is an international field. I found the HZ and loved the impression the school gave me. The website was very inviting and every person I was in contact with - from teachers to International Office to the girl who spoke to me as HZ Ambassador - was unbelievably friendly and helpful. I felt very welcome and so I decided to move from Germany to Zeeland."
Why did you choose Tourism Management?
"I studied Biology in Germany but it wasn´t my passion. So when I finished with the Program, I tried to reinvent myself and find the perfect combination between my strengths and interests. I talked to friends and family and thanks to their advice and evaluation I found my way to Tourism."
Article continues below photo.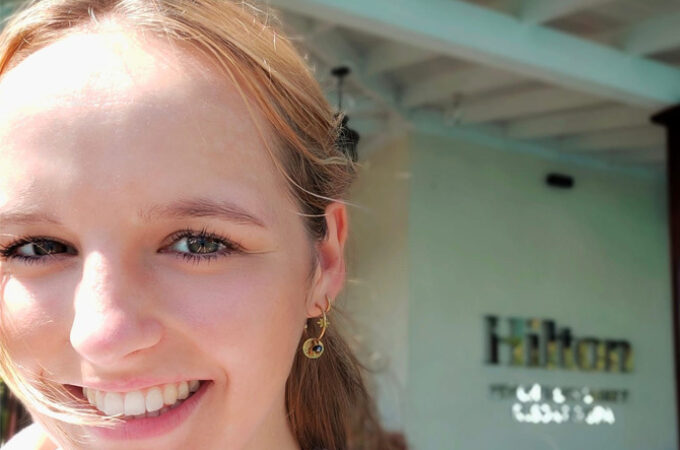 Can you explain what Tourism Management is about?
"Tourism Management is a diverse field with many directions to specify in. The first year starts with the module 'World of Tourism', which gives a broad introduction to the profession. Other modules teach you about marketing, HR, value creation, experience design and more. I like that all projects and assignments are connected to real companies in Zeeland, which makes the work a perfect practice for the future. Furthermore, the programme includes numerous internships and a semester abroad. That is why it takes four years to finish the Bachelor. In my opinion, it is absolutely worth adding that extra year and gain the experience that only internships and living in other countries can bring you!"
What do you think of studying in Zeeland, the Netherlands?
"I like studying in Zeeland mostly because of the amazing people around me. Middelburg is very alive and especially in the summer full of tourists. Winters, however, can be a little dark and lonely - it was double bad during lockdown. But, again, with the right people around you, you will enjoy your time even in the dark months. For young people who want to party a lot, it might not be the perfect place though. There are a few bars and one or two nightclubs but it's not really a scene. Personally, I like that it's a little more quiet but still with the opportunity to go out if you want to."
What subjects are you most interested in?
"The program offers different focus areas and I am most interested in the area of Hotels, Resorts & Parks. It gives me the option to work anywhere around the world on guest/people interaction and it holds the possibility to combine it with sustainability. Here, I can build a career or transfer to related jobs."
How did you find your internships?
"My first apprenticeship was at the HZ Garage. It involved working on three different projects with real clients. Working in teams to create value for the clients was amazing, especially because the work we did made real impact. My internship at the Hilton in Seychelles was the experience of a lifetime! I worked in different departments to get to know the operational side of the Resort industry. I learned and developed myself personally and professionally immensely. I managed to extend my stay and this way am able to do my 4th year internship here already."
What is your advice to students considering studying Tourism Management at HZ?
"I advise everybody who thinks about studying Tourism Management to consider the amazing opportunities this Program brings. Internships on the other side of the world with the option to build great connections for the future, a semester abroad (mine will be in Norway) and classes that teach you theory and practice side by side. If travelling is what you love, working with people and different cultures is your thing and you are open to learn and develop yourself, then this program is the one for you!"
Read more about Tourism Management at HZ University of Applied Sciences