International Business: Valeria's highlight has been company visits
Why did you choose to study International Business?
"There are many reasons why I decided to follow the International Business programme at HZ University of Applied Sciences, but one of the most outstanding ones is certainly the fact that the business world intrigues me, and that I had the option to choose a foreign language. This encouraged me to continue improving my French. The study allows us to have a wide overview of the subject and acquire knowledge in many different fields. Additionally, since the beginning of the studies you are confronted with real issues and companies, which helps you to understand the real business world."
Why did you choose HZ?
"HZ has a familial environment, with small classes and a place where students matter. This helps especially the international students easily build friendships and feel at home. Furthermore, the possibilities that the university offers are immense and super vast, from sports to culture trips, there is something for everyone."
How was the transition from your home country to the Netherlands?
"I lived my entire life in Italy until I moved to the Netherlands and the transition was great and doable. Clearly, I am missing a good Italian pizza, friends, and family, however, the open-mindedness and the willingness of people to help reduce the homesickness."
What is the most valuable part of your studies?
"One of the most valuable parts of my studies is the familiarity within the programme and the university itself, but also the aspect that we have the possibility to get in touch with companies and the business world."
Article continues below photo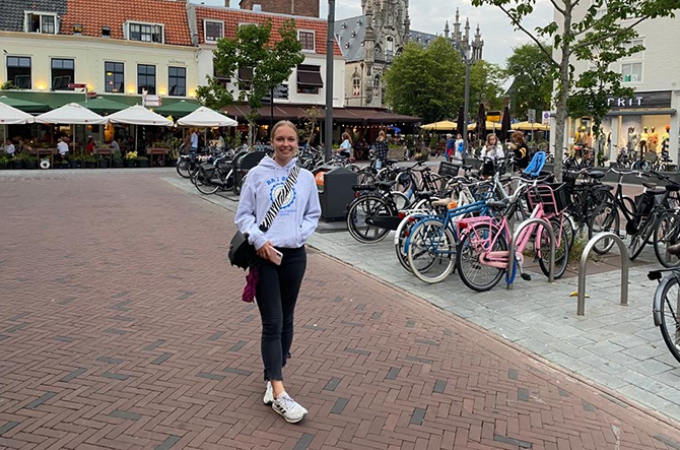 What has been the most interesting project you have worked on?
"Since I am a first-year international business student, so far, I did not come across so many projects, however, I would say that the market research project, in the first block was really nice. We had the possibility to analyse the market size, competitors, and possible customers for a company, giving us a first inside, of what it means to do a market analysis for and within a company."
What has been the highlight of your studies at HZ?
"One of the highlights of my studies so far was surely the company visit we did during Block 2 in the first year. We went to different companies, where we got an introduction to what they do, and their structure of it, however, we were also allowed to ask questions and be curious."
What would you like to do after graduation?
"I am not sure yet, since I just started my studies, however, I will probably attach a master, getting more in-depth knowledge into a course that I really liked and that intrigues me to get to know more about it."
What would your advice be to a student applying to HZ?
"An advice that I would like to give to prospective students is not to be afraid of asking and getting in touch with other students especially the first few days, since all are in the same situation. Moreover, from my experience, students from the 2nd and 4th years are more than willing to help where they can."