International Business: Maxi knew this programme would expand her possibilities
Why did you choose to study International Business?
"I chose to study International Business because I know that business is something that will always be around and is important to know. In addition, international business expands my possibilities even more because I am able to work in any country I desire. I was also especially interested in languages and enjoy the fact that this study programme offers the best of both worlds."
Why did you choose HZ?
"I chose HZ for many reasons. Mostly, I was interested in the International Business study programme since it offers experiences and knowledge other universities don't. I enjoy the fact that I get many opportunities to work or study abroad and broaden my horizon that way. In addition, the HZ is very practice-oriented, which can only help when I step into the real business world since I will have an advantage compared to other newcomers, who had a strictly theory-based education.
Coming from a large city, I wanted to experience a small university with teachers that I could talk to and ask for help, rather than being a number that no one pays attention to. The HZ has proven to be exactly what I was looking for and I don't regret one second here!"
How was the transition from your home country to the Netherlands?
"Since I was open-minded and ready for any change that could come my way, the transition was not as hard as I thought. The city I live in, Middelburg, is beautiful and gives me a sense of comfort, which helped greatly. It was also easy to find friends at the HZ, since international students are not a rarity and always willing to make new connections. Of course, the bureaucratic tasks are always annoying, but the Dutch are always willing to help, which made the process easier. Moreover, leaving family behind is something that is never easy to do but a crucial step to growing up and thankfully, I'm only a short flight away from home."
What is the most valuable part of your studies?
"It's hard to focus on just one part since there are so many valuable things to be thankful for. As previously mentioned, being able to learn two languages and have the opportunity to move to the country where that language is spoken, even for just a semester, is something that should not be taken for granted. It's also comforting to know that you can really immerse yourself in your studies and have any questions asked by the teachers that are always willing to help. In other universities, you would not have this opportunity, which makes HZ so special. Lastly, HZ teaches you so many different perspectives and things that are important and current, which will open all your doors in the future."

Article continues below photo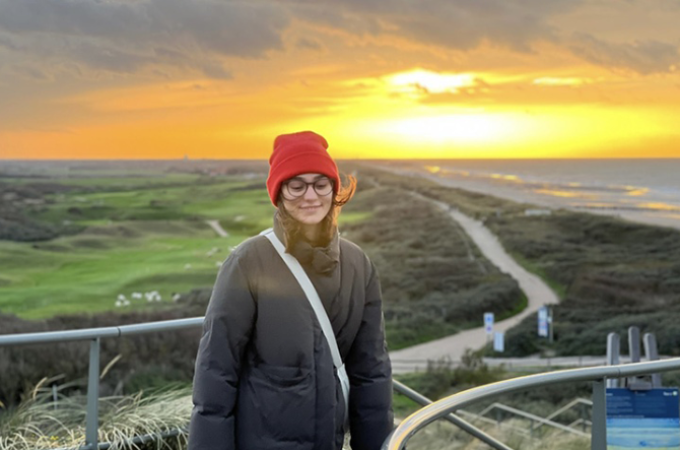 What has been the most interesting project you have worked on?
"Since I have only been here for about 4 months, we have not had too many projects, but the one that I immediately thought of was being put into a group and working together with them on many different tasks. I met new people and was productive at the same time. An interesting project was dissecting the Dutch company "Tony Chocolonely" and analysing their financial information."

What has been the highlight of your studies at HZ?
"The highlights so far have been getting out of my comfort zone, meeting friends, working on interesting projects, and learning new things that get me excited for my future."

What would you like to do after graduation?
"Since I am only in my first year and have a few more years to go, I know many things will change, which is why I am not pushing myself to do something specific at this point. However, I have realised that I enjoy the world of academia and would like to continue with a Master's degree."

What would your advice be to a student applying to HZ?
"1. Find accommodation months in advance!!
2. Figure out what paperwork you need in order to move to The Netherlands and what that process will look like (it sounds worse than it actually is)
3. Make yourself familiar with the city you'll be living in
4. Talk to students from the HZ and ask them any questions you have"