International Business: Janik's highlight so far has been his year abroad
Why did you choose to study International Business?
After studying two years of "ordinary" business administration in Germany I already knew that I am a business interested person but at the same time also interested in intercultural exchange. However, my business studies in Germany did not fulfill me and left me missing out on preparing me sufficiently on my desired international career. International Business was, therefore, the right choice for me; combining both the preparation for an international work environment and the right education on skills for my future career in business.
Why did you choose HZ?
Choosing to study at HZ back was a very spontaneous decision made while on family vacation at the beaches of Zeeland. In the end, I would say I didn't choose HZ, HZ chose me.
How was the transition from your home country to the Netherlands?
Since I am from Germany, living in the Netherlands is not much of a huge cultural difference. In my case there were only 4 weeks between applying and studying in the Netherlands, I had some difficulties in the beginning with finding a suitable apartment and the usual bureaucracy. However, with the help of my fellow students and my nice Dutch neighbours, everything sorted itself out in the end.
Article continues below photo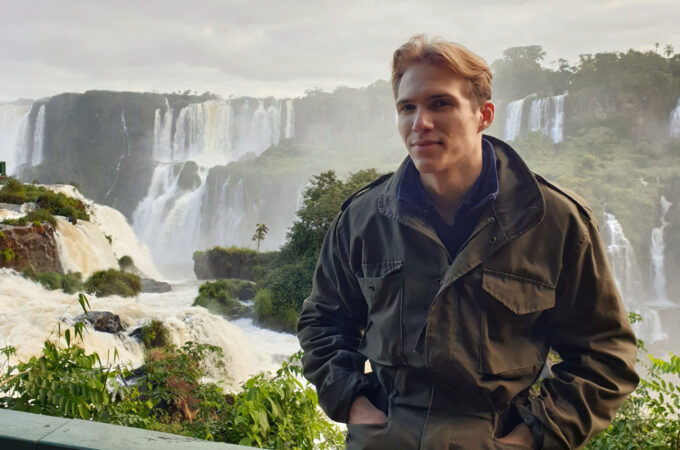 What is the most valuable part of your studies?
Studying internationally, speaking English and getting to know people from all over the world. What I also value a lot is that I have a very good and constructive connection with my lecturers. There's a reason students call the HZ the "personal" university of applied sciences because you can have personal exchange and discussions with your lecturers. If there are any problems, HZ is normally always willing to work out a solution together with you for whatever problem you might experience.
Tell us about your minor and internship during your studies?
I did my internship at Carnival Maritime (Cruise industry) in Hamburg, Germany and my minor abroad at the UNIVALI University in Itajai, Brazil.
What has been the most interesting project you have worked on?
There are so many projects that I have worked on, however, I remember enjoying the Bike company simulation game a bit too much. The bike company simulation game is a virtual student company in which you can simulate business activities in competition with your fellow students.
What has been the highlight of your studies at HZ?
The highlight of my studies was my international year abroad. The year abroad is what every international student is looking forward to and makes all the work you put into the first two years of your studies worth it.
What would you like to do after graduation?
I either wish to work in an internationally operating company or like to round up my education with an Master's degree.
What would your advice be to a student applying to HZ?
Be open for other cultures and other mindsets, be sure if working internationally and maybe being alone from home is the right thing for you and don't do and come to the Netherlands only because of the weed.