Industrial Engineering and Management: Elena decided to come to HZ because of the practical programme
Why did you choose to study Industrial Engineering and Management?
"I chose to study Industrial Engineering and Management because it is a fairly general degree that covers several topics and can allow you to work in different branches. To this day I am still deciding on what work I want to do in the future, which is why with this bachelor's degree I do not limit myself to a single job. I have always been attracted to finding out how a company functions: how is the process of creating a product; how to manage it; optimise it; improve it; and make the most of it. All these things, and more, are what I will be able to handle and manage with this study."
Why did you choose HZ?
"I chose HZ because, unlike other universities in the Netherlands and in my country; Spain, it has a lot of practical work. What caught my attention and made me decide on HZ University of Applied Sciences was its planned programme: from the first year we worked on an internship two days a week with real companies and with real problems. In addition to that, we had classes for the rest of the week at the university where we learned the theory that we need to apply at the internship. Of course, the plan for the third year also caught my attention, it consists of two parts, the internship and the minor where we can choose any destination around the world that we want, I saw it as an incredible and unique opportunity that made me decide to come here."
How was the transition from your home country to the Netherlands?
"I believe that like everyone who leaves home to go study abroad, they have to go through a complicated process of adaptation because they leave their comfort zone completely. Although all the beginnings are difficult, it was not difficult for me luckily. All the friends I made were in the same situation as me so that helps, HZ has a lot of activities and associations that help you integrate into the culture. I live in Middelburg and I think it is a very welcoming place that welcomes students delightedly. All in all, I think my transition was little by little, but once I adapted I was (and am) very happy in the Netherlands."
What is the most valuable part of your studies?
"As I explained before, the most important thing for me is the practical part. Dealing with real companies makes you see the world as it is from the beginning and this helps you a lot professionally. One of my biggest fears was finishing university and not having any work experience, but I value the practical courses and internships during the four years."

Article continues below photo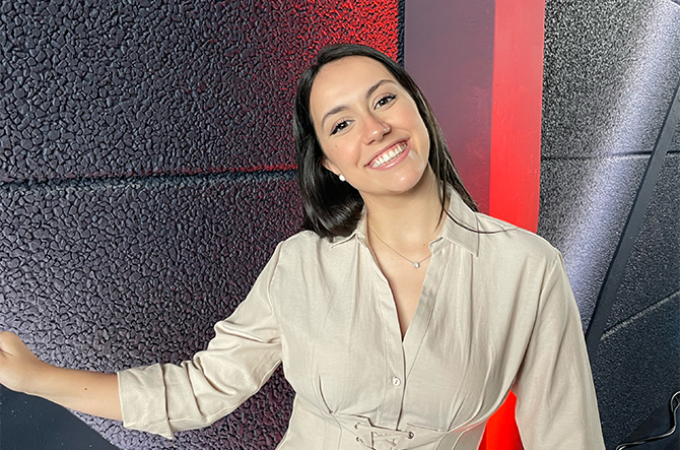 What has been the most interesting project you have worked on?
"I think my favourite project was called 'Operational Excellence at Cooros'; a food production and canning company. For this project, my team and I had to identify a problem that the company had. Our task was to try to come up with solutions and recommendations that would optimise the process and reduce expenses. My team and I worked on the waste of water that this company had with the production of beans. During the block we went to the company twice a week, and we had meetings with engineers, water managers, sustainability managers, and other departments of the team. We also had the opportunity to have visits at the production site, the water treatment plant, etc. The project was based on DMAIC, a management method, and I think it has been the most important and useful tool I've learned so far."
What would you like to do after graduation?
"I have realised that the management and business part of my study attracts a lot of attention. That is why after my graduation I would like to continue by doing a master's about something that has to do with it."
What would your advice be to a student applying to HZ?
"Definitely make the most of it, but also enjoy it, this period of university life is one of the most important of your life and it will accompany you always, so take advantage of it, study hard you are fighting for your future. But also have fun, HZ offers you many activities, sports, trips, and associations, so sign up for many things, meet people and above all: get out of your comfort zone!"