Civil Engineering: Omar about his study experience
Why did you decide to study at HZ?
"I chose to study at the HZ due to the emphasis on research during the bachelor programme, and due to the practical method of teaching. I was also swayed by the fact that I would get to spend 1 semester gaining work experience, and another semester conducting a minor at a university of my choice, and finally having an entire semester to conduct my final thesis as I really enjoy conducting research."
Why did you choose to study Civil Engineering?
"I chose to study Civil Engineering because of how broad of a programme it is. It incorporates a lot of my interests at the same time such as infrastructure, structural engineering, and flood defenses. Of course at the same time, the Netherlands is known internationally for its positive reputation in these subjects, which further motivated me to study civil engineering at the HZ."
Article continues below photo.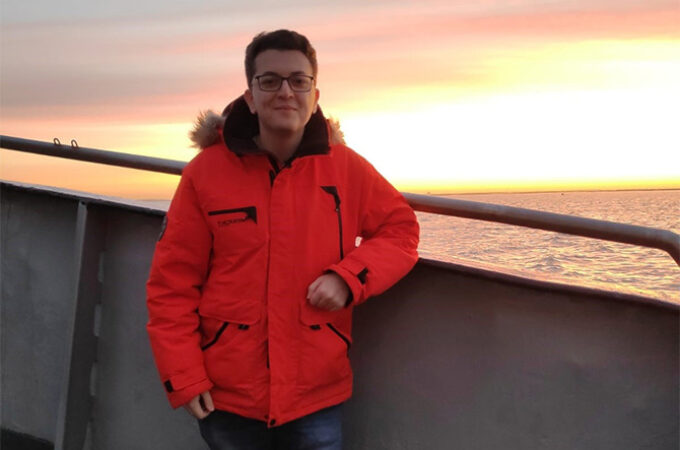 Can you explain what the study is about?
"During the Civil Engineering programme I had a large variety of courses that ranged from road design, concrete & steel structural engineering, risk & project management, and dredging & ecology just to name a few. I felt that I learned about all the different aspects of civil engineering, and gained further insight from my courses on what types of work fields I can be employed in. During all my classes I felt that there was a balance between learning about the theoretical aspects of a subject and between applying the knowledge in a practical method which was usually in the form of a group project."
How is it to study abroad?
"Studying abroad, away from family, is of course difficult, but personally I felt that it was a great step for my personal growth as I learned to be more confident and better rely on myself."
How is it to study in Zeeland, the Netherlands?
"I really enjoyed studying in Zeeland especially since I don't enjoy the hustle and bustle of large cities. I felt that the relatively quiet environment helped me to focus on studying, but at the same time there were a lot of activities to partake in with my classmates and the university of applied sciences when it was time to relax."
What was the most valuable part of your studies?
"Of course gaining the necessary knowledge for becoming a civil engineer is a very crucial part of my studies. However, I know that the connections that I made with stakeholders during projects, and people in the work field during my internship/thesis is one of the most valuable parts of my study. It helped open my eyes to what being a civil engineer is, it's not just making calculations on your own, but it's about connecting with others."
In what subject did you specialise?
"During my third and fourth years I decided to not continue with structural engineering as after my first two years during the programme I felt a greater passion/affiliation to water related activities which is what opted me instead to learn more about dredging, flood defenses, and water infrastructure."
What did you choose for your minor?
"I had my minor at the University of Twente where I was a part of the civil engineering premaster programme, although it was a unique experience, it made me appreciate the teaching style at the HZ which was a hybrid between practical and theoretical knowledge, while at the University of Twente it was mainly just learning about theory."
And you also did an internship. How was it?
"I had my internship at a structural consultancy firm in Dubai. It was of course nice to be living in a city like Dubai, and due to the large construction business there I learned a lot about the practicability of designing concrete buildings, and the overall tender process. Dubai also offered a unique opportunity as I learned about several international construction safety codes such as the British and American safety codes."
"I also did my thesis at the company Damen, in The Netherlands. I had a great time improving my knowledge in dredging vessels and soil mechanics during the dredging process. The work culture at the company was also really motivating, it helped me to push myself to improve the quality of my thesis."
What are you doing now?
"After graduating I wanted to continue my studies by following a master's programme. I was captivated by the Master's programme River Delta Development that is offered as a joint programme by the HZ, VHL, and RUAS as it felt like a unique opportunity to not just learn about topics that would enhance my civil engineering tool, but also to see different parts of The Netherlands. During the master's program I am improving my existing knowledge about river-delta systems while gaining new insight on transition management and governance. The master's programme gives me a lot of freedom compared to my bachelor's studies as it is up to me to decide how I will achieve my learning goals, this is of course intimidating at first, but it should also be a great leap in my personal development."
What would your advice be to a student applying to HZ?
"I would advise you to firstly be confident in yourself and your capabilities, to secondly be eager to hear out other's point of views and/or criticism as this will be a key skill to have in the workplace, thirdly to never underestimate the importance of time management, and lastly don't forget to enjoy your time at the HZ!"
Read more about Civil Engineering at HZ University of Applied Sciences