Why did you choose to study International Business?
"I chose to study International Business because I had studied at the Business Academy in Slovakia and I was not sure what I would like to do in my future. I decided to study at HZ University of Applied Sciences so that I have a wider choice of career options after my studies."
Why did you choose HZ?
"I chose HZ mainly because of the many opportunities I have to do practical projects. I was amazed by the chance to create my own student company and to live in up to 4 different countries while doing my bachelor's degree. And of course, I loved the fact that the university is by the beach."
How was the transition from your home country to the Netherlands?
"For me the transition was a bit harder because I came to the Netherlands completely alone and I only knew one person before coming to Vlissingen. But in the end, it all worked out just fine. I have found new friends and got used to living on my own and being responsible for everything."
Article continues below photo.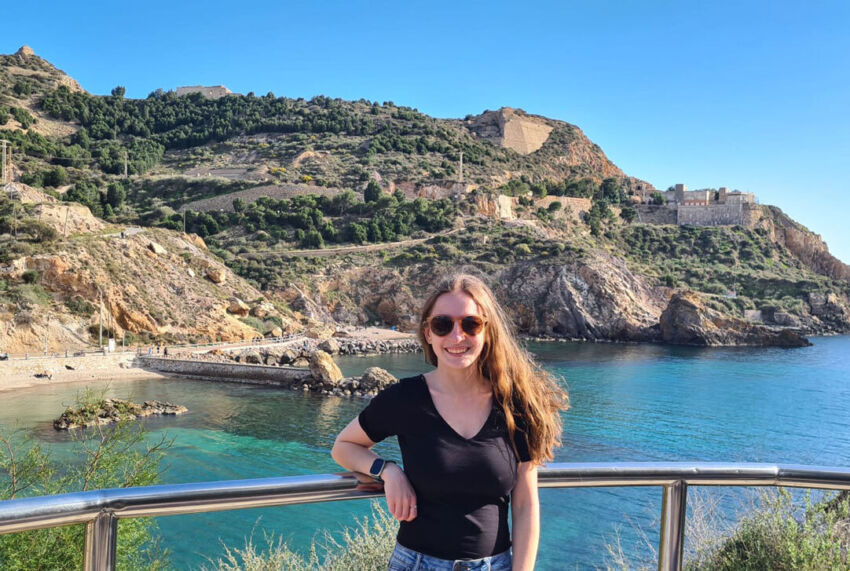 What is the most valuable part of your studies?
"It is hard to choose just one part that is the most valuable. For me it is really important that I can work on practical projects and apply theory to practice immediately. I also like the fact that in the third year we have a compulsory internship and minor, it helps you to get out of your comfort zone and that is where you can develop yourself."
Tell us about your minor and internship during your studies.
"In the first semester of my third year, I did an internship in my home country in a small company called Albertina Icome. I worked as a sales and marketing intern and I have gained a lot of new knowledge about the e-resources market. I got a chance to meet with the representatives of the Ministry of Education, Science, Research and Sport in Slovakia. The internship has given me a new perspective on my future career. Currently, I am doing my minor in Murcia, Spain where I follow all the courses in Spanish. I have chosen courses from marketing, tourism and sports faculty which makes it interesting as I have a mix of topics. It is very challenging but I notice that every day I understand more and more, and that makes me proud of myself. Spain is a very nice country and I can't wait to get to know it during the next five months."
What has been the most interesting project you have worked on?
"For me the most interesting project was an export plan which we had to develop for a local company Doens. I liked the fact that we had a freedom of choice of the product to export and a country to which the product should be exported to. I also had a very nice team for this project so it was a perfect combination of a topic I liked and people I worked with."
What has been the highlight of your studies at HZ?
"The highlight of my studies has definitely been the trip to Jamaica. I was able to go there during the summer to carry out field research for my Honours Programme. It was an amazing experience as I could spend almost 4 weeks with the locals and help the local organisation with preserving the marine life and also do some volunteering with the local kids."
What would you like to do after graduation?
"I am not sure yet what I would like to do after my graduation. It all depends on my graduation internship and opportunities I will get after it. Maybe I will continue with my studies and do a Master's."
What would your advice be to a student applying to HZ?
"Take every opportunity you have to do some extracurricular activities; it will make your time at HZ better and you will be able to make the most out of your 4 years in the Netherlands."