International Business: Camille loves the practical part of her studies
Why did you decide to study at HZ?

"I discovered HZ at a student fair in Lyon. I met a representative of HZ and a student ambassador and they were both very nice. While explaining, the student seemed very passionate about HZ and her studies. I also chose HZ because I wanted to go abroad, live in an international environment and improve my English. I visited HZ during the Open days, this is when I made my decision; I loved the university and the city. +20 points for the beach."
Why did you choose to study International Business?
"I wanted to study courses related to business but that would still be quite general, because I did not know what to do in the future. During the Open days, the teachers explained the courses more in detail, and I truly liked the fact that most of the courses are linking to sustainable development. It is very relevant to have English lessons and I wanted to learn a new language (Spanish)."
Article continues below photo.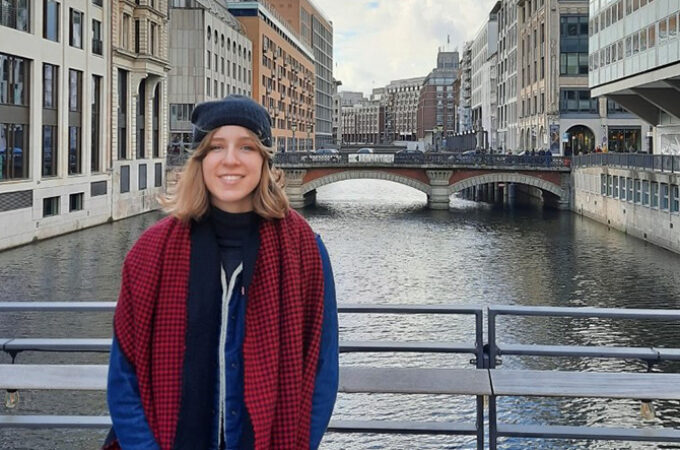 What was the most valuable part of your studies?
"I love my studies especially for the practical part. It can be hard to be working in groups but it is always when we learn the most, and collaborating with 'real' companies is an efficient way of learning too. The fact that we have three semesters abroad is also valuable."
Can you tell us a little more about your semesters abroad?
"I did my internship in Berlin, which was interesting. I learned a lot about myself and how to work on different marketplaces in a startup environment. I lived with Asian flat mates and we had nice meals, talking and comparing our cultures. My colleagues were all internationals and it was inspiring to share our different backgrounds. This semester was definitely a whole experience. I decided to do my exchange semester at the University of Barcelona."
What would your advice be to a student applying to HZ?
"Do not worry about the English level, you will catch up easily. I would advise you to ask for help anytime you need it because there is always someone there to guide you. Another thing, enjoy the Netherlands and go on city trips, there are lots of cities to discover and it is a beautiful country. Have fun at King's day!"
Read more about the study programme International Business at HZ