Dr Cyrill Jean Nunn, the German ambassador to the Netherlands, visited HZ University of Applied Sciences and Delta Platform at the end of November. He was here at the intercession of Jan-Willem van Koeveringe, honorary consul of Germany in the Netherlands. The ambassador was updated on what Delta Platform and HZ can contribute to the common challenges of climate change.

He was also updated on the work of Delta Platform, nature-based-solutions for water management, the HZ in general and the HZ's Water Management course. "Impressive," was his reaction afterwards.
German students Maria and Vincent told how Water Management trains them to become the water professionals of the future. They outlined the years and three directions: Aquatic Ecotechnology, Delta Management and Spatial Planning and Design. "Why they had chosen to study in the Netherlands and Zeeland in particular?" the ambassador wanted to know. "Because we study in an international environment, thereby getting to know other cultures, we are future-oriented and practice-oriented, and the Netherlands has a lot of knowledge in the field of water," Maria replied.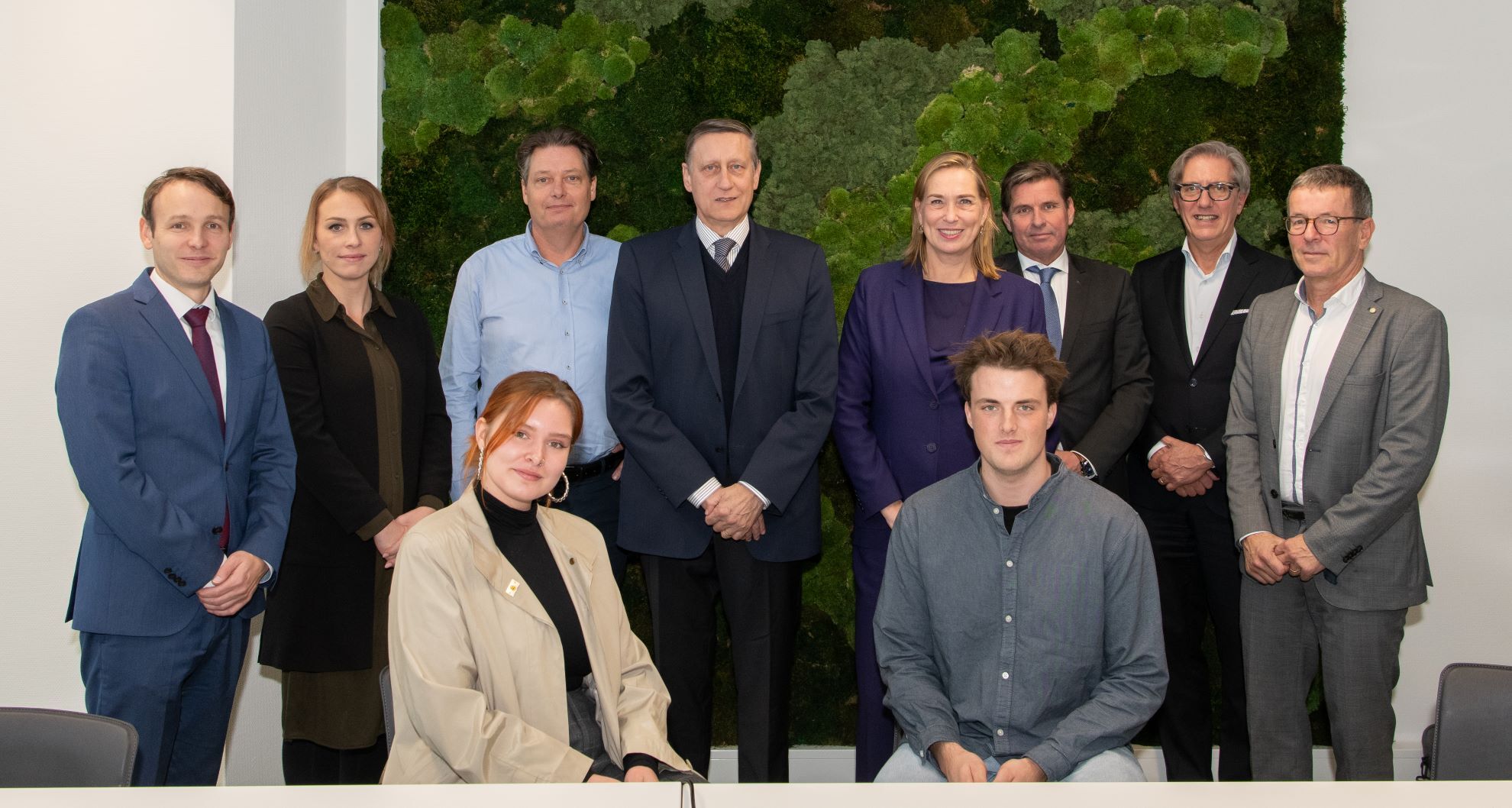 Bart Geenen of WWF specifically addressed nature-based-solutions, natural solutions that contribute to increased water safety. His presentation focused on the area around the Kyll, the river that caused incredible misery in 2021. He made it clear that restoring natural drainage conditions ('sponges') in the valleys could reduce peak discharges in the Eifel region by up to 35 per cent and thus increase safety. It would also reduce prolonged periods of drought. "It is not difficult," Geenen told the ambassador. It is a matter of closing man-made streams in the valleys so that nature can retain water longer.

Biggest bump is that you have to get the residents and farmers in these areas on board. Besides, the real solution requires cross-border, European cooperation, he stressed, since most major rivers flow through several countries. The ambassador showed great interest and said he would like to come back to Zeeland, especially to learn more about water safety. "It is impressive what smart solutions are being developed here around safety, availability and quality of water," he said.
Knowledge of water issues
The Netherlands' knowledge of water issues was one of the reasons why the German ambassador came to Delta Platform and HZ. He wanted to gain knowledge on water management, especially in light of last year's severe floods in the Eifel region.
Delta Platform director Willem den Ouden explained to him that universities of applied sciences are indispensable in concretely helping to solve the complex, societal problems surrounding water. From Delta Platform, 11 universities of applied sciences are now working together through applied research in living labs, research environments spread across the different landscape types in the Netherlands. "We have to actively get to work now in order to have sustainable, safe delta areas, such as Zeeland, also in the future," Den Ouden said.