New English-language programme Global Project and Change Management: Manon shares her experiences
Why did you choose Global Project and Change Management?
"This programme is very broad and offers many options. The programme focuses on the problems that are currently happening in the world. I have a great sense of justice and that is why I think it is important to change this in a positive way, for a better future. What appeals to me most about this new study programme is that you are part of an international class. That is not only good for your knowledge of English, but also for getting to know other cultures."
What do you learn during this programme?
"At first I was afraid that some subjects would be very theoretical. But the teachers always find a way to make the lessons interactive and relevant. In the course History of Globalization, for example, we look at issues of food distribution. How is it possible that McDonald's exists worldwide? And why do we have infinite amounts of drinking water, while people in other countries die from water shortages?
At the same time, we learn a lot on a personal level. In the Leadership course we learn about our own values and how they have become like this. This is especially interesting in an international class: my classmates are from France, Germany and Slovakia. You really learn how people from other cultures think. That also means that all subjects are in English.
Moreover, the way of examining in this programme is very different from other programmes: for instance, we don't have normal tests, but deliverables. So instead of a test, we make a vlog, presentation or essay."
Article continues below photo.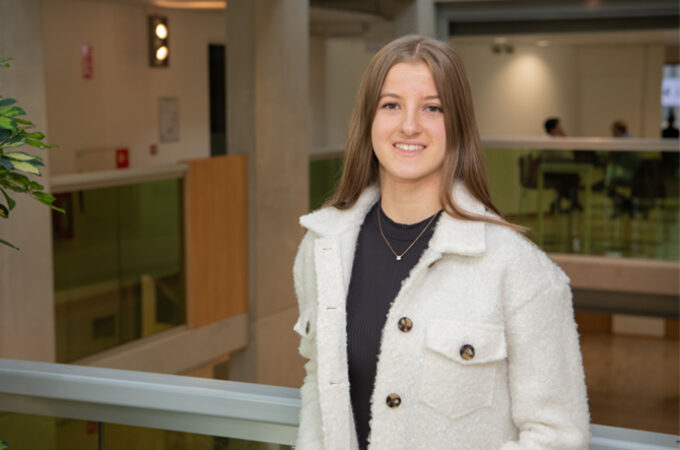 What do you like most about the study programme?
"The atmosphere is really good. We are a small class, with only eight students. It's very personal and that's great. Everyone is open and honest with each other. And even the teachers are open to change. They really listen to feedback and respond to what we need. For example, as this is a new programme there was not really a clear overview at the start of the year of the assignments we had to hand in. After our feedback, they immediately made a good planning. That's why I love being a student ambassador. People can contact me via the chat function on the HZ website. I answer their questions and share my enthusiasm with them. This way, I can motivate others to also follow this study.
What do you want to do after you graduate?
"The job prospects for this study are very good. Especially because it is such a broad study. I don't know yet where I want to work, but I would really like to help solve inequality. Maybe I'll go abroad and work for a big organisation, like Unicef. Thanks to the practical experience I am gaining now, I know that I have to focus on what I find most interesting. We are already working with real companies. This semester, for example, we are working on an assignment for Rijkswaterstaat (Department of Waterways). If we present a good initiative, there is a chance that they will actually take it on. It is very special to see how much energy you get from this!
Do you have any advice for someone considering Global Project and Change Management?
"If you are considering this study programme, I would definitely recommend it. It is a unique course and the atmosphere is very good. This intensive study is small-scale and the teachers are very involved and enthusiastic."
Read more about Global Project and Change Management at HZ University of Applied Sciences