The master's is a joint degree of HZ University of Applied Sciences, Van Hall Larenstein and Rotterdam University of Applied Sciences: How did you experience studying at three different universities?
"I really enjoyed the variety of River Delta Development. Three different universities of applied sciences means studying in a different city every semester. I also lived there during the study programme. I moved from Middelburg to Rotterdam and Velp (near Arnhem). Looking for a room was sometimes quite chaotic, but you do get to know a new city every time. Plus: you become very close to the study group because you keep living together. That was very valuable, especially during the lockdown. Despite the online classes, we built up a bond with each other."
What did you learn at each of the institutes?
"At the HZ in Zeeland, the focus was on coastal systems: how is a delta formed? For example, by looking at the Delta Works and reflecting on whether you would make the same choices now as you did then. Or which strategy you could use to make the Netherlands safe from the water. Another example is the theme 'The year 2100' in which you look at different building strategies that respond to climate change.
During the semester at Van Hall, we also looked at climate. There, I studied how the water law conflicts with the animal law, such as when the maintenance of primary water defences takes place in areas where protected animals live and how you deal with that.
In Rotterdam, we were taught about heat stress. How does this occur in the city and how do you deal with it? The most important thing we learned in Rotterdam was to consider different strategies for urban development. Do you take a robust or flexible approach? What will happen to the climate in the future and how do you design the outdoor areas so that we can all continue to live in Rotterdam? You also have to consider which stakeholders you will be working with."
What is the most valuable part of this programme?
"The most valuable part of the programme are the Living Labs. A kind of internship, but more free. You come into contact with a very large network and you immediately see what it is like to work within a company. On the other hand, it is a much safer environment than a workplace, because you can always fall back on your supervisors."
Article continues below photo.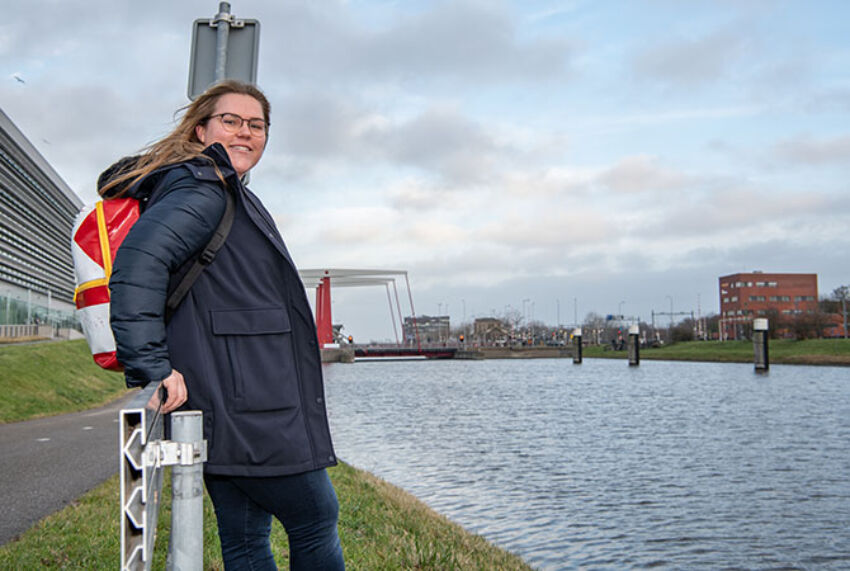 What was the added value of the practice-oriented approach of this master's?
"You immediately apply in practice what you have learned in theory during the Living Labs. It is very topical. Eventually you will enter the professional field, so it is nice to be able to put this knowledge into practice immediately and receive guidance in doing so. For example, after taking a lesson on aquaculture, you can immediately start shaping the existing agriculture in Zeeland differently in a Living Lab in order to counter salinisation."
Where do you work now?
"I work for the Municipality of Rotterdam as an advisor on urban water and climate adaptation. This role arose from a Living Lab, which in turn was the result of my graduation internship for my bachelor's degree. After completing my bachelor's degree, I wanted to broaden my knowledge further. Thanks to this master's, it was a very natural transition."
What is your advice to others considering this master's?
"In this master's, self-development is central. You don't learn on the basis of grades and tests, but through self-reflection. You learn to act consciously and you receive continuous feedback. You have to be ready for that. It really is not regular education. You are close to the professional field, so if you want to learn more than just theory, I would definitely recommend this master's. You build your network immediately and you can go in any direction you want."
Read more about River Delta Development at HZ University of Applied Sciences