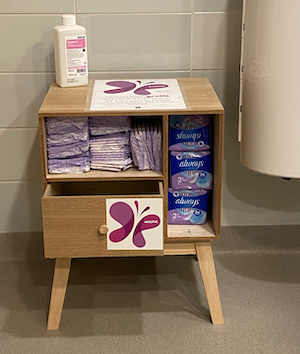 The HZ opened two issue points for menstrual products, in Vlissingen and in Middelburg. You will find these issue points in the ladies' toilet in Vlissingen on the ground floor of the A corridor, in Middelburg at the toilets opposite to GW020. In the Issue Points, you will find various products that can be grabbed for free.
Why is this necessary
For one in ten girls and women, there is sometimes no money at home for sanitary pads or tampons. They then have to use toilet paper or, of necessity, choose to stay home from work, friends or study with all the consequences. It should not be the case in the Netherlands that menstrual poverty prevents you from attending your studies, for instance, and as a result you miss a lecture or exam and fall behind.
If you have to make ends meet on a limited weekly budget, most of that money goes on food and drink. But that money also has to be used to buy care and hygiene products. This means that sometimes there is no money for sanitary towels or other menstrual products. Menstrual products should be available to every woman who needs them. The Poverty Fund therefore provides free menstrual products through local aid organisations and other low-threshold locations. We want to give women the choice to choose a product that suits them and that they find comfortable.
Rather donate?
Would you rather donate products? You can! You can add products to the Issue Points yourself. What is allowed in the cupboards: sanitary towels, tampons, washable sanitary towels, menstrual cups but also panty liners and material against light urination (thin bandages and panty liners).