Circular Economy Week
Published: 06 Feb 2023

From Monday 6 to Saturday 11 February, Circular Economy Week is being organised in the Netherlands with various activities and events, including in Zeeland.
Activities
During Circular Economy Week, various activities will be organised by HZ Green Office, the Province of Zeeland, ZB Library of Zeeland, various companies and knowledge institutions.

08 Feb
Week of Circular Economy: Clothing Swap
The clothing industry is one of the most polluting industries. Second-hand clothes are a much more sustainable choice. And nowadays totally hip by not only reusing clothes but also restyling them. On Friday 10 February, the HZ Green Office together with the ZB Library of Zeeland, UCR Eleanor Green Office and Duurzaam Scalda will organise a clothing exchange at Het Plein, on the first floor of the ZB Library of Zeeland.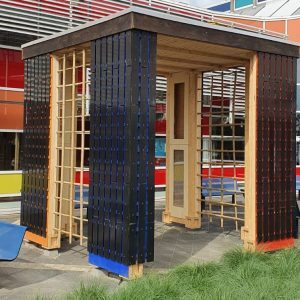 Projects
Within the HZ, we are continuously working on themes within Circular Economy in the field of education and research.
Centre of Expertise Biobased Construction
Working on the application of biocircular materials. These are materials of natural and therefore renewable origin, which serve to replace non-renewable fossil materials.
Centre of Expertise Biobased economy
Working on food and biobased themes. Examples include the development of edible packaging (an edible layer of bioplastic around apples) and the development of knowledge around the theme of taste, for instance to develop new sustainable new food products with marine proteins.
Growing green waste and oyster gums on coffee grounds
HZ Green Office and students from the minor BFF-Cicular Economy are investigating the possibility of processing their own green waste on-site as compost in the HZ's food forest in Vlissingen, and growing oyster mushrooms on a small scale.
Professorship Future Shores
This lectureship looks at new types of flood defences with an eye for sustainability, climate resistance and naturalness.
Project week Architecture
Circular Economy Week coincides with a project week for students in the Architecture programme. They work on redesigning the hospitality industry of Het Groene Woud, or designing tiny houses including an area design or communal building for the community. All assignments from the mindset of circular design and construction.