Why did you choose to study Water Management?
"The planning, development, and management of water resources are all included in the field of Water Management, which is an important component of environmental sustainability. Aquatic eco-technology, a branch of water management, is concerned with using cutting-edge tools and strategies to safeguard and maintain aquatic ecosystems. My personal interest in studying aquatic eco-technology at HZ University of Applied Sciences is in line with my long-term professional objective of becoming a shark biologist. I will have the skills and knowledge needed to accomplish my professional goals to pursue the marine biology Bachelor's and Master's degrees that are linked to the aquatic eco-technology track. There are many different marine biology careers available in every industry. I will have the chance to plan experiments, observe marine life and organisms, gather plant and water samples, gauge water quality, research aquatic diseases, and draw conclusions from my research as a marine biologist. Fieldwork experience, collaboration and communication skills, observational abilities, math and statistics proficiency, and the capacity to work outside in all weather conditions are all necessary qualifications for this career. I strongly believe the water management programme can help me develop all of those skills, and present me with plenty of opportunities, aside from the academic expertise I will gather thanks to the programme."
Why did you choose HZ?
"Because of my interest in aquatic eco-technology, I decided to study at HZ. The goal of the programme is to equip students with the knowledge and abilities necessary to sustainably manage water resources. Topics covered include hydrology, ecological engineering, and integrated coastal zone management. This university of applied sciences is a good option due to its dedication to sustainability, which is demonstrated by its work with the Sustainable Development Goals and signing the STG charter. People who want to have a positive impact on the environment and preserve the natural habitat should consider attending the university because it is already moving in that direction."
How was the transition from your home country to the Netherlands?
"The kindness of the locals and the widespread use of English, the transition from Bulgaria to the Netherlands went smoothly. When I first arrived, I discovered that the Dutch are always willing to help and ease the transition for newcomers. Even though it is a good idea to familiarise yourself with the public transportation system before visiting, it is well-organised and clearly marked with instructions. I observed some cultural differences between the Netherlands and Bulgaria, but they weren't particularly pronounced. Instead, I discovered that the Dutch people were welcoming and open, which made it simple for me to settle into my new environment. Support and understanding from my professors was another element that helped with the transition. They were prepared to help and support you because they understood the difficulties that international students face when they move far from home. This facilitated the transition and improved my sense of comfort in my new surroundings. Overall, I'd say that moving from Bulgaria to the Netherlands was a good experience, and I'm appreciative of the resources and assistance provided to make it go as smoothly as possible."
Article continues below photo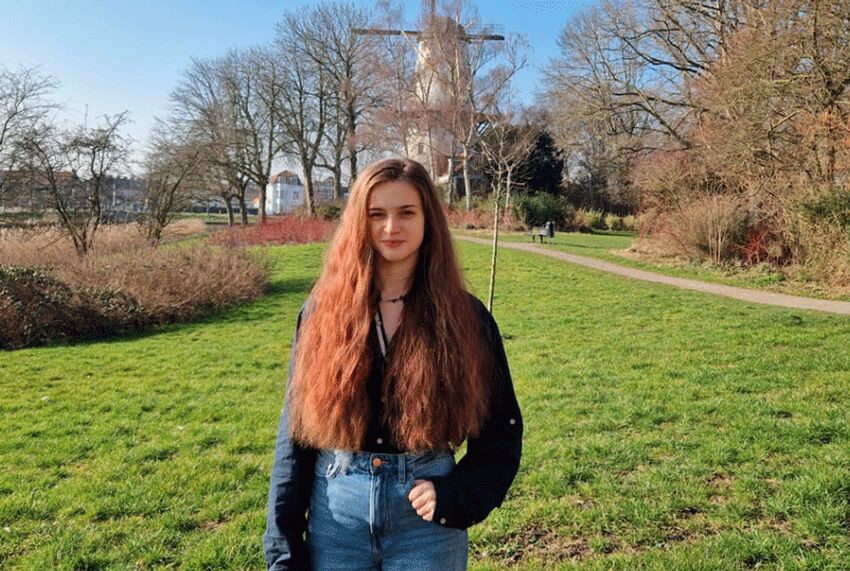 What is the most valuable part of your studies?
"The applied component of the studies would, in my opinion, be the most beneficial aspect of the water management programme. We not only gather information from the most recent academic works but also from our professors' daily interactions with actual industry experts. This establishes a deeper connection between us and potential careers in the area of influence we seek. More significant than simply reading textbooks are field trips, field days, and group projects outside. We attempt to put what we have learned into practice, which is more instructive and engaging than merely reading and provides us with accurate feedback on how much we have learned so far and what we still need to learn. It has a stronger connection to the fieldwork that businesses will require in the future. Learning by doing and experiencing something leaves more of an impression on us than just reading about it in a book."
What has been the highlight of your studies at HZ?
"The interaction with the professors and the multicultural environment has been for me the two biggest highlights of my studies at HZ. There is no hierarchy between teachers and students; rather, there is respect. The majority of them are excellent at explaining and making connections between what we study and the actual problems because they are kind, considerate, and true experts in their field. We are given a lot of opportunities and real-world challenges, which makes us feel responsible and accomplished. Although it may come as a shock to some international students, questions are encouraged because they are the best way to learn and pique interest."
What would you like to do after graduation?
"I will pursue a master's degree in marine biology at the University of Groningen after completing my bachelor's thesis for graduation from this institution, and I will begin working as a shark biologist after that. I'm hoping that once I've gained enough professional experience, I'll be able to finish a Ph.D. in marine science."
What would your advice be to a student applying to HZ?
"My biggest advice would be to be open to opportunities. Another thing future students can do is research the programme. It is also important to make sure you know what the programme entails and what skills you will learn from it. Apply with specificity - make your application unique by emphasizing how your experience and objectives match the course you're applying to. Get reliable references and maybe consider requesting letters of recommendation that highlight your skills and qualifications from professors, advisors, or experts in your field. Last but not least by participating in extracurricular activities, gaining work experience, or volunteering, you can demonstrate your leadership, teamwork, and other relevant experiences, those things can make you stand out which is always good."