Chemistry: Nally wanted to study Life Sciences
Why did you choose to study Chemistry?
I have always wanted to study Life Sciences. So when I learned I had the option of majoring in life science as a Chemistry student, I went for it without a doubt.
Why did you choose HZ?
I chose to study at HZ as it was the only university that had the appealed to me after searching thoroughly for a Life Science course. I also had the opportunity to speak to a chemistry student who explained the breakdown of the academic years for me, the lab hours, and the theoretical subjects and what they entailed. The fact that theory and practice aligned was a sign that HZ would be a wonderful place for me. I was really looking forward to spending my summer days on the beach too, especially after the tough exam season.
How was the transition from your home country to the Netherlands?
It was a difficult transition. It was the first major independence I had been exposed to, and I can testify that the first few months were not easy, especially with the change in seasons. I still am not a huge fan of the Dutch weather, but I did adjust well. I came across many culture shocks too; such as calling teachers by their first name, I actually still have difficulty with that. I am mostly always home sick, so one thing that helps a lot is that I can have snacks from my home country, Namibia.
What is the most valuable part of your studies?
The most valuable part of my studies are the practical lessons. It's one thing to have theoretical knowledge but learning how and when to apply them is the game changer. I have always learned and remembered more when I could perform a task.

Article continues below photo.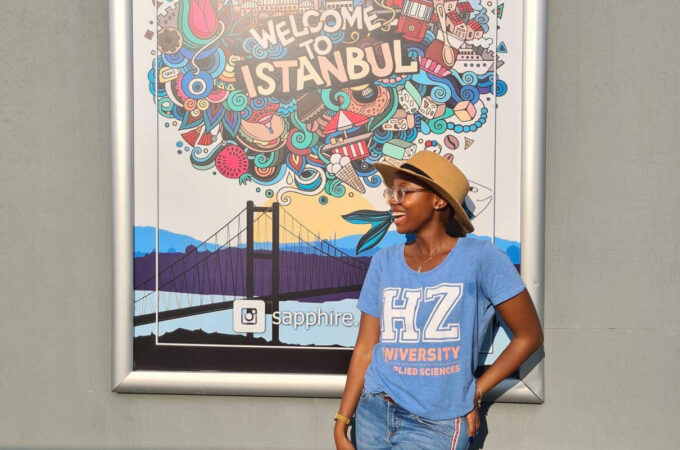 Tell us about your minor during your studies.
I am currently doing my minor in psychology at Bahcesehir (pronounced bah-chair-share-here) University in Istanbul, Turkey. I have always been fascinated by the study of the human brain and understanding what makes a certain individual the way they are. I am currently studying five subjects which are 1. Introduction to Psychology 2. Introduction to Philosophy 3. Introduction to Sociology 4. Understanding Social behaviours and 5. Child and Family Law. I know these subjects all seem completely unrelated, however, they all intertwine at one point; what I am taught in Sociology I get to understand deeper in Psychology and so forth. I really have enjoyed my minor in Turkey, it's a wonderful place to explore and travel. Very beautiful!
What has been the most interesting project you have worked on?
The most interesting project I have worked on is the beer brewing group assignment in my first year. This was the first project that assured me I chose the right university and right course.
What has been the highlight of your studies at HZ?
The highlight of my studies at HZ would be my minor in Istanbul. I learned so much about myself in Turkey and discovered my love for traveling. I learned how to put myself first and became the best version of myself there.
What would you like to do after graduation?
I would love to do a masters. I am still conflicted on which masters to study as the ones I have found all appeal to me.
What would your advice be to a student applying to HZ?
To anyone applying to the HZ, have a clear vision of your future aspirations. It helps a lot to know what you would like to do and be. Remember you are not completely on your own at HZ, your teachers are there to help you. If you can try to figure out as much for yourself, it's the best way to grow and learn, and have fun too!