Why did you choose to study Chemistry?
"Chemistry is a big part of our everyday life. It makes me excited to get to know the process behind a phenomenon or how you can make a daily life product from scratch. In short, it helps you understand the world around you. Also, I chose Chemistry because it is not an ending subject. As technology improves, new techniques or new methods get discovered, the research and reading never ends."
Why did you choose HZ?
"I chose HZ simply because it offered me a Chemistry programme where I can combine theoretical and practical lessons. Also, the structure offers you the possibility to choose your specialty (Life Sciences or Applied Chemistry), to have an exchange minor and 2 semesters of internships- a great closeness to a job experience. Another reason that influenced me was the international environment. I read a lot about the friendly atmosphere that persists here, the warm bond between teachers and students, and the interaction that you have with other cultures."
How was the transition from your home country to the Netherlands?
"For me, the transition was smooth because my mind was programmed to move to another country. Being excited all the time, and welcoming the unpredictable, made my transition easier. Also, the people are friendlier and worry-free, you learn how to live your life - this inspires you to make your decisions more confidently. I had some problems with the food because in Moldova we do everything from scratch and I needed some time to understand how I can find the cheese, butter, or milk that I need (I had trouble with volle, halfvolle, magere melk :D)."
Article continues below photo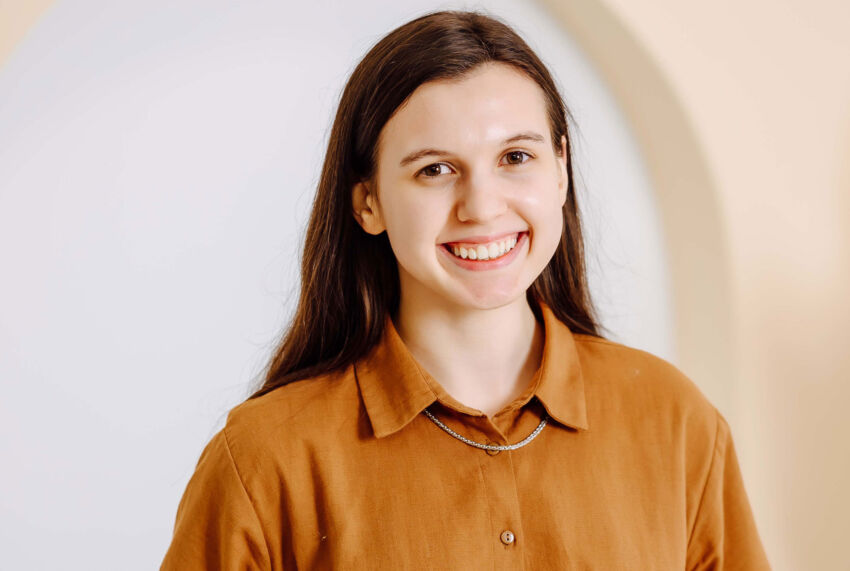 What is the most valuable part of your studies?
"The most valuable part is that we can apply the theory that we've studied in practice. I love that each block has a specific theme, and the theory and practical experiments are in correlation with it. Also, the guest lectures offer me an insight in how we can apply the knowledge in the Chemistry field. It makes me aware of the jobs or tasks that I would have never thought of."

What has been the most interesting project you have worked on?
"I can't choose just one but instead I have three projects/extra-curricular to choose from. First, an extra Chemistry course called Analytical Sciences Talent Program (ASTP) where you can gain knowledge on an analytical Chemistry field, expand your network, and have lectures from people in the field. You meet students from other universities, have lectures around the Netherlands and learn a lot. Second, the Honours Programme offered at HZ facilitates the research into all kinds of topic related to Sustainable Development Goals (SDGs). Together with students from different study programmes, you dive into a problem and do your research in order to create a positive impact for specific stakeholders. The best part is that you can travel everywhere to do field research. Third, together with other 3 colleagues we filmed a safety video in the microbiology lab for the prospective students. It was fun to be camera operator, actor, editor, script writer."
What has been the highlight of your studies at HZ?
"Every project or organisation I've been a part of was a highlight of my study: Green Office, FISA, Student Ambassador community, ASTP. Also, getting my propedeuse with cum laude was a milestone in my studies."
What would you like to do after graduation?
"After graduation I would like to stay in the Netherlands and follow a Master programme."
What would your advice be to a student applying to HZ?
"If you are hesitating to apply to HZ, don't! You must remember that you are not alone. Even if it's difficult, you will find people with the same story, people that will support you and make your student life unforgettable. Don't be afraid to take risks, it can turn out to be your great decision."