Chemistry: AK felt reassured by HZ's personal approach
Why did you decide to study at HZ?
"I found HZ while looking into universities, visited the website, and got instantly hooked by their focus on cultivating an international community in the cosy, beach-side city of Vlissingen. After talking to a HZ student ambassador, what ultimately won me over was the university's very personal approach which reassured me that I would feel like more than just a faceless name and student number."
Why did you choose the Chemistry programme?
"My interest in the physical sciences, especially Chemistry, developed from a very young age. The wide-ranging scope of the subject and the infinite career prospects in all sorts of interesting fields. When I saw that HZ had a chemistry programme that covered everything from organic synthesis to biochemistry with weekly lab practices, I knew it was the programme for me. I mean how cool is it that your first project is brewing and analysing your own beer?!"
What is the most valuable part of your studies?

"I would say the amount of practical work in the curriculum is a huge advantage as it really gives us the opportunity to put what we learn in the classroom into practice. Additionally, I believe it helps when you have actual lab experience as it lowers the learning curve when starting internships or jobs. Personally, I also found the variety of the subjects covered to be very valuable – from microbiology and spectroscopy to organic chemistry and everything in between."
Article continues below photo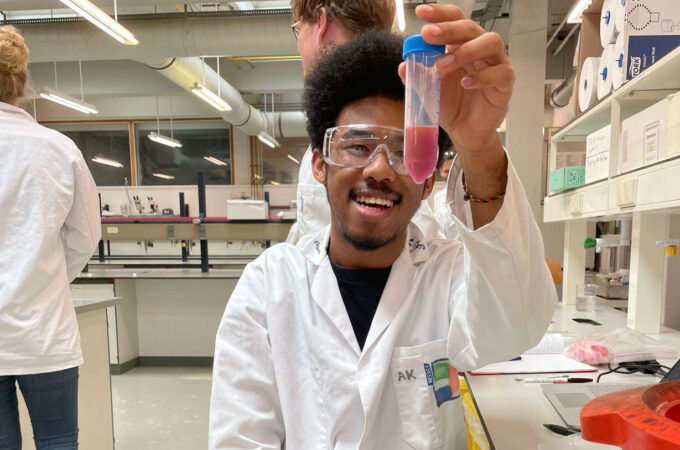 What subject do you specialise in?

"There are two specialisations you could choose in the third year – Applied Chemistry and Life Sciences – of which I chose the former. Applied Chemistry focuses on subjects like chromatography and polymers, while Life Sciences offers modules such as immunology and bioinformatics."
Minors & Internships

"In chemistry, we can do one internship and one minor (not including the graduation internship), both of which are done in the second half of the study programme. For the minor, there are several partner universities both in the Netherlands and abroad that offer a variety of options. However, for people who don't want to move far away (like me) there are also a lot of interesting research minor projects available at the in-house research centre: Marine Biobased Chemistry."
What would your advice be to a student applying to HZ?

"My biggest advice would be to reach out to people that are already here and ask for help whenever you're not sure about anything. In my experience, a lot of students and people at the International Office are more than happy to help with anything. It will also help you get a better idea of what life is like in Zeeland by talking to students. Last, but certainly not least, BRING WARM CLOTHES!"