Inspiration Fridays
Aside from the curricular topics that you will follow Monday through Thursday the GPCM programme has reserved the Friday's for extracurricular activities. Inspiration Friday aims to be a creative space in your schedule in which we aim to be inspired and inspire others.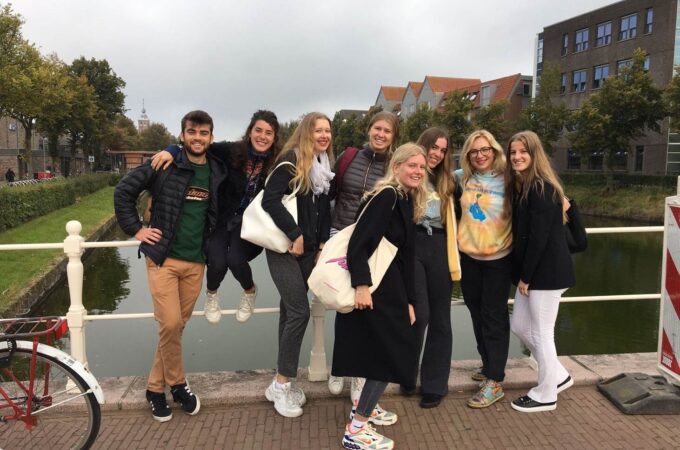 Are you passionate about abolishing child labor? Or stopping deforestation of the rainforests? Are you active on social inequality topics, such as BLM? Food insecurity? Racism? Water insecurity? Migration policy?

City Seeds Project Walcheren
It is located in Middelburg right in between apartment blocks and they plant all kinds of vegetables, fruit and flowers you can imagine to give it to people in need every Tuesday and Friday and to raise awareness about local and healthy food. Together with a lot of other volunteers from different origins and backgrounds, we helped harvesting a huge field of potatoes and found some nice real-looking shapes, like the duck on the picture who is now standing in Emma's kitchen at home.
We also supported them giving away the fresh food on the little stand. In the end, we had a farewell party for one of the volunteers and ate handmade fries made from the potatoes from the garden and a yummy salad also freshly prepared.
Guided tour: Zero Waste walk Middelburg
We went on a zero waste walk with and explored 3 inspiring and sustainable places in Middelburg.
First, we visited WAAR, a shop which sells all kind of sustainably produced sortiment. They have their own cosmetics brand of which the packaging is made of sugar cane! Then we enjoyed delicious cakes and warm drinks at Het Koffiepand, where we talked about the ambition to create such a café. Last but not least, Moois en Meer taught us about the production of jeans and denim, and how important sustainable fashion is. Did you know how much water is needed until we can buy the jeans? It's 10.000 litres!
Night of the Refugee walk
We participated in the Night of the Refugee walk. This is an event organised to raise funding for emergency aid for refugees across the world. We walked 20 km in Rotterdam as we as a class feel responsible for the well-being of every disadvantaged person on this planet and we want to make a change. Read more about the event here.
Want to know more about Global Project and Change Management?
Are you the one that will improve the quality of life of vulnerable people thanks to new technologies? Will you develop with other experts a solution for the plastic soup? Will you form a plan to help your country to turn green? Will you have a sustainable solution to the housing crisis? Or will you find a way to produce food without putting too much strain on the planet?