Value Creation
Now more than ever, the complexity of today's world necessitates that we focus on finding and organizing multi-dimensional solutions that demonstrate added value and impact at social and environmental levels. Value creation is a major and growing driver in both for-profit and non-profit organizations.
By applying decision making and analysis tools, organizations can map their pathway to realizing a diversity of value and do so in a such a way that the environment and the people that inhabit it are unharmed in the process. In order to serve the interests of future generations, a growing number of organizations are reinventing their business models and practices to include new circular economy models.
These organizations bend the rules of traditional business thinking and explore new [holistic] business models focused on developing holistic solutions with added value for society and the environment as a whole. Framing such multi-dimensional value propositions within business models allows an organization to validate and operationalize its diversity of value creation.
What Global Project and Change Management offers within the Value Creation learning line:
Finance Fundamentals
Business Models
Purpose Economy
Economics
International Economics
Law and Policies
What students say:
"The best thing about the Value Creation learning line was working with a company in the Carribbean Islands to help them develop their business model to be able to make an even greater impact for communities there. I also like that in the class "Purpose Economy" we finally talk about economy in other terms than just monetary ones and go more into the social direction." (Nina, 2nd year)
"I like the courses "Business Models" and "Purpose Economy" the most because we talk about delivering non-monetary value - value to contribute to the well-being of the customer(s). In Purpose Economy, we talk about different economic approaches, such as Doughnut Economics, Blue Economy, Circular Economy, Well-Being Economy, Regenerative Business, or Degrowth, which are not only better for the people and the planet, but so much more interesting than capitalism." (Eva, 2nd year)
"For the "Finance Fundamentals" course, I found it rather useful (as an international student) when we had homework in which we had to create our own Cash Flow Statement." (Zitem, 1st year)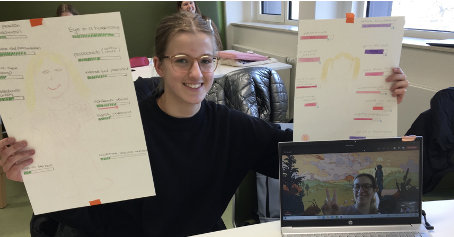 Manon holds up work completed for the Business Models class. Students were tasked with designing B2B, B2C, and B2B+export models together with a real client from the Caribbean.
Programme
Would you like more information about this project or the study programme Global Project and Change Management? View our study choice activities at hz.nl/events and register for one of the activities.