Leadership
Leadership is a journey of self-discovery and personal mastery.
The first step of this journey is to obtain self-awareness and understand your own values and intrinsic motivational drivers and thus identify your purpose as a compass to navigate through life. It's about personal growth: developing yourself by taking true ownership for your own personal effectiveness. Personal leadership is characterized by a continuous urge to grow and understand the impact of your own actions, while becoming or staying open and authentic.
This requires the ability to not only be vulnerable and embrace your imperfections, but also resilience and the ability to handle setbacks and failure as part of your personal growth.
Once there's clarity about what you truly love doing, it's about making it meaningful and in service of others. To lead others, one needs to be able to develop compassion and connect with the values and needs they have and based on that envision a future that creates multiple values. With the help of good communication skills, leaders articulate their visions and establish trustworthiness. There are different types of leadership and each can serve different situations or change of situations. Therefore, to lead in today's world requires the ability to respond to the emerging changes and uncertainty by remaining agile and adaptive.
What Global Project and Change Management offers within the Leadership learning line:
Self-Awareness
Team Dynamics
Presenting skills
Cultural Awareness
Negotiation and Persuasion
Team facilitation
Network leadership
Co-creation
What students say:
"For our Self-Awareness classes, we began our classes with different types of meditation - right from the start! I found it very interactive the podium we're provided every class to express our thoughts and opinions on different topics - from body positivity to racial injustice". (Zitem, 1st year)
" The final deliverable for presenting skills was ' the Perfect Protester' , I thought it was amazing to be creative and step out of our comfort zones, and I just generally loved that class'' (Nina, 2nd year)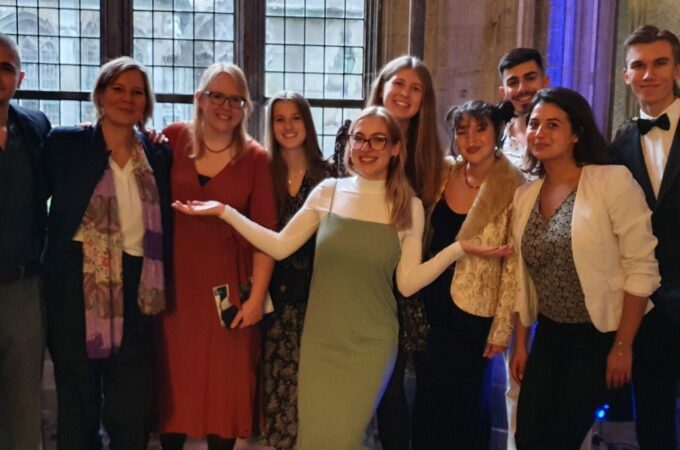 Students and staff were invited to hear student Ema Kovalova deliver a speech on 'Freedom from Want' during a Four Freedom Award event with Her Royal Highness Princess Beatrix.
Programme
Would you like more information about this project or the study programme Global Project and Change Management? View our study choice activities at hz.nl/events and register for one of the activities.