Sustainable and Resilient Coastal Cities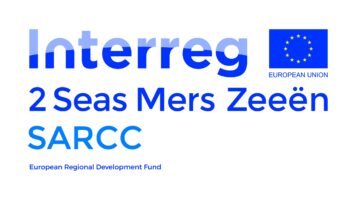 Urban areas situated along the 2 Seas coastline are particularly vulnerable to extreme Sea Level Rise (a combination of SLR, tide and storm surges). For coastal protection of these cities grey engineering solutions are often dominant. A clear knowledge gap exists across coastal local authorities to deploy NBS as a means to reduce future coastal flood risk and economic damage. SARCC, Sustainable and Resilient Coastal Cities, is an Interreg 2 Seas project (2019-2022) which aims to mainstream nature-based solutions (NBS) into coastal management and policy making of urban areas.
HZ research groups Resilient Deltas and Building with Nature participate in this project and collaborate with other knowledge partners, like VIVES University of Applied Sciences (BE), EXO Environmental (UK) and TU Delft (NL) to develop applied knowledge and tools to support implementing of NBS for coastal protection and anticipation on extreme sea level rise.
Research groups Resilient Deltas and Building with Nature combine the available expertise on flood risk management, governance and nature based solutiions in a comparative assessment to consider the feasibility and acceptability of NBS for the coastal protection of urban areas. This will also include interdisciplinary benefits like spatial quality of urban waterfronts. In collaboration with SARCC partners, stakeholders and students potential nature based strategies are assessed considering sea level rise scenarios, and compared with grey and hybrid solutions for coastal protection. HZ also participated in the pilot project of Vlissingen, in which the municipality explores potential future scenarios for the Boulevard and Spuikom area.
Together with VIVES and EXO, HZ research group Resilient Deltas forms the joint evaluation team. This team is responsible to develop a monitoring programme that runs throughout the term of the project and is applied across all the SARCC pilot NBS sites. The programme will be iterative with a staged evaluation process using questionnaires at each pilot site to assess the different phases of development of NBS pilots. Next to this HZ conducts a mindscape evaluation to gain insight in stakeholder perceptions of the changing landscape of the urban coastal zone.
Sustainable and Resilient Coastal cities (SARCC) is a European project in the Interreg 2 Seas programme with financial support from the European Union / European Regional Development Fund. Interreg 2 Seas is a European Territorial Cooperation programme covering England, France, the Netherlands, and Belgium (Flanders).The programme aims to develop an innovative, knowledge and research based, sustainable and inclusive 2 Seas area, where natural resources are protected and the green economy is promoted.
More information about the pilot projects and the project partners, can be found on the official project website https://www.sarcc.eu/. For more information about the HZ activities, please contact Jean-Marie Buijs (jm.buijs@hz.nl), program manager Resilient Deltas.