Why did you choose to study Water Management?
"I chose to study Water Management because water is essential in life. Unfortunately, there are many problems related to it. Many people die every year due to the poor water quality and quantity; the environment suffers as well. The course Water Management teaches us what we can do to solve water-related problems. Additionally, after studying this programme, there are numerous career opportunities. In the first part of the first year, all the students in the course attend the same classes. Then in the second part of the year, you need to make a decision between 3 study tracks: Aquatic Ecotechnology, Delta Management, and Spatial Planning and Design. I liked that it gives a general idea, and then with that knowledge we can choose what we think best fits us and what we want to do in the future."
Why did you choose HZ?
"I chose HZ because it is an applied university; therefore, all the things we study in class, will be applied by doing activities and excursions. For me this is important because it helps me understand what I am learning in class. Consequentially, it gives me the experience that I might use in my future work. Apart from the way of learning, I chose HZ for its international context. There are students from all around the world; hence, you will learn about other cultures. Moreover, the number of students per class is not a lot; therefore, the relationship between the teacher and the students is one-on-one. Teachers know your name, hence you are not only "a number", they always answer questions and are ready to help."
How was the transition from your home country to the Netherlands?
"When I was in Italy, after I received the acceptance letter, I got in contact with a teacher from the HZ. She helped me find an accommodation, explained more about the programme, and put me in contact with one of the student ambassadors. The student ambassador then gave me more information regarding what I needed for my studies and living expenses. After arriving to the Netherlands, I settled down and I started my academic journey."
Article continues below photo.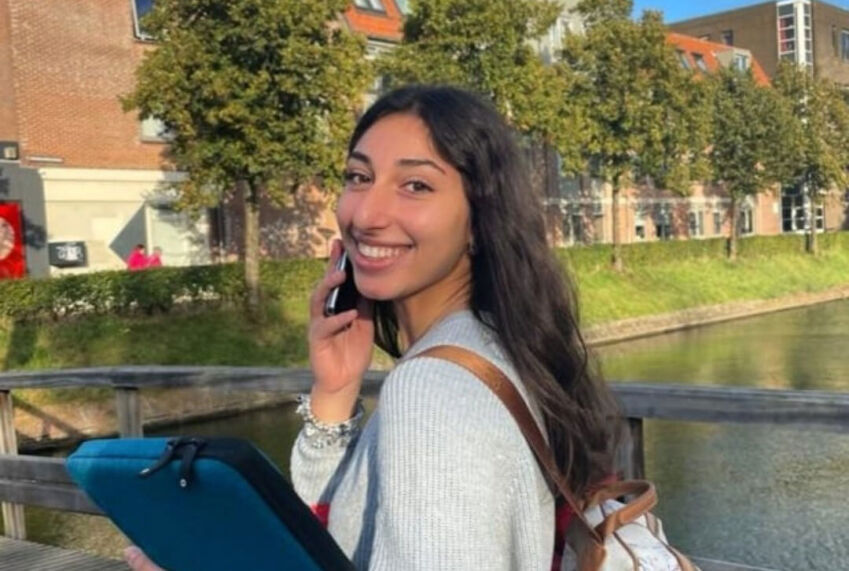 What is the most valuable part of your studies?
"The most valuable part of my studies is seeing the relation between what I am studying and what is happening in today's world. With the knowledge I am acquiring I can improve the current situation. Right now, we are in a climate change crisis, and it is our generation that needs to find solutions for the problems. By studying Water Management and learning about everything that relates to environment and sustainability, it gives me hope and responsibility to act and be part of the solution."
What has been the most interesting project you have worked on?
"We did a lot of projects and excursions, but my favorite was when we went in an open field to analyse the soil. We had specific tools which helped us extract meters deep of soil. Once out, we could see the different layers, from thousands of years till present. Afterwards we observed, analyse, and reported what we saw and touched."
What has been the highlight of your studies at HZ?
"By being a student ambassador, I was able to help during the open day, both the one in-person and online. I had to explain to prospective students about the study programme and student life. It was amazing to see their will to start after my explanations."
What would you like to do after graduation?
"Water Management offers a variety of job prospects. After graduation I would either like to work with a company to help them become more sustainable and improve their water quality, or work with an association in the developing countries to improve the water quality and quantity to help the locals survive and live a better life."
What would your advice be to a student applying to HZ?
"My advice is to be motivated and not to be afraid to try new things. Whenever there is an event HZ organises, go and try it out. Luckily they organise many different activities, even outside your study programme. This way you can gain knowledge about different topics and meet students. Most importantly, have fun!"