Why did you decide to study at HZ?
"My first interaction with HZ was at the HZ Open Day. When I first came here and I saw the good vibes and everyone's friendliness I knew this was the place for me. The decision was easy, the open-minded teachers, a beautiful university, and friendly students convinced me to apply straight away."
Why did you choose this specific study programme?
"I chose Tourism Management because I love travelling, I wanted to see the world and experience the hundreds of cultures around the globe. Tourism is something that will always exist so this was a choice for the future.
Article continues below photo.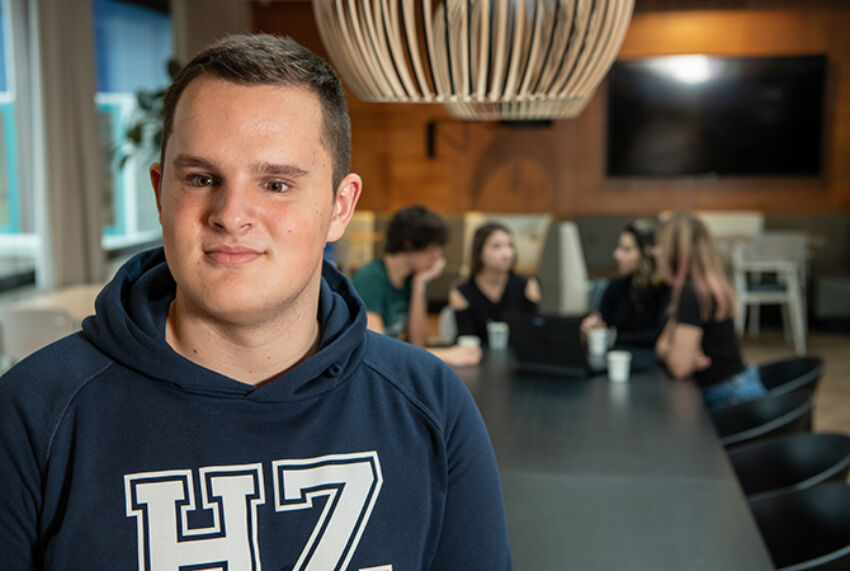 What is the most valuable part of your studies?
"I mostly value the fact that this is not only a theoretical study, we actually get to do something. From the many projects for real companies, to visiting nice places during our study trips and finding great jobs with our internships. With HZ, you are well prepared for the job market."
In what subject do you specialise?
"I am specializing in "Developing Hotels, Parks, and Resorts" because it is a huge domain with many opportunities. You can find jobs at hotels around the world and it is a great choice if you want to work internationally."
Tell us about your plans for your internships of your minor?
"For my internships and minor, I am very excited to find something abroad. To work in a hotel that can teach me something new, that will show me how it actually is to work in this amazing industry."
What would your advice be to a student applying to HZ?
"If you want to develop yourself both on a professional and a personal level, I strongly advise you to apply to HZ. This is not only an University of Applied Sciences, this is the University of Applied Sciences that will prepare you for your future career."
Read more about Tourism Management at HZ University of Applied Sciences