Why did you choose to study Tourism Management?
"Since I was younger, I always had the curiosity of discovering the world and its people, to get out of the comfort zone, to get far away from home. Soon I found out how much I love traveling, not only for the sightseeing and fun itself but to see what other people's reality looked like. So, I studied languages in high school to work on my communication and later on I decided that studying tourism in a foreign country would definitely be helpful for me not to lose sight of the beautiful multicultural world. So I chose Tourism Management."
Why did you choose HZ?
"The Netherlands is wonderful when it comes to English speaking! Besides that, I knew I wanted to cut the theoretical study as I already had a very much theory in high school. I found out about the University of Applied Sciences! But why HZ among all the UAS in The Netherlands? Everyone was talking about the practical approach but many didn't have what HZ has: the personal approach. HZ is truly the university where students matter and are heard. They are not just numbers but future professionals whose opinions matter and are ready to learn and grow up together… what a family!"
How was your transition from your home country to the Netherlands?
"It was a mix of so many different emotions: the excitement of starting something new, the fear of a big, completely new chapter of my life, the happiness of finding out it was the right place for me. But of course, sadness and home sickness hit time to time, and that's okay too!"
Article continues below photo.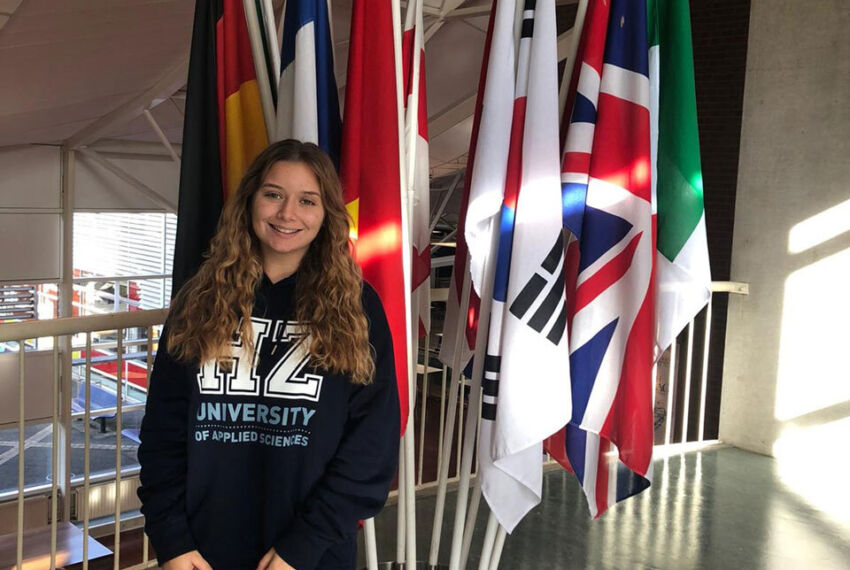 What is the most valuable part of your studies?
"The projects and the creativity of them! We work on many projects as a way to learn each subject and topic: what better if not immediately apply what you learnt in class instead of just "memorizing and repeating"?"
Tell us about your minor and internship during your studies.
"During my first-year internship I worked at the "Garage Innovation Studio" of HZ, which gave me the chance to work on real life projects with a variety of stakeholders. It was such a great opportunity for me to practice for a future career in my favourite fields! I did market research for a start-up company called ZJI Wellness, I also worked in fields like sustainability in the gastronomy system, Regional products and hostmanship.
Moreover, I cannot wait for my minor next year as I got selected to spend a semester in Palma de Mallorca – Spain, studying at the University of Balearic Islands!"
What has been the most interesting project you have worked on?
"The most interesting project I have worked on was during Value Creation: it's a course where we had to analyse a determined target group in order to guess their needs. Then from that create a whole new value or improve an existing one and pitch our proposition to the lecturers. The first project of the course consisted creating a service, product, or event according to the needs and wants of university students of Tourism Management. It was easy at first as we were part of that same target group but it was a good start. It took a lot of creativity, planning, financial skills, and teamwork."
What has been the highlight of your studies at HZ?
"I feel like the best is yet to come… But I love how they recognise and cheer for you for each single achievement. I passed my first year with 60/60 credits so together with my fellow students we received a ceremony recognition called "Propedeuse". It was very motivating!"
What would you like to do after graduation?
"I know for sure I want to work with people, respond to their demand and help to satisfy their needs. I am considering doing a Master in order to be able to coach or teach students in the field of Tourism Management, or perhaps to seek for job right after graduation as communication, marketing, and internationalisation officer. My dream would be to come back working at HZ!"
What would your advice be to a student applying to HZ?
"Do it! Even if it seems scary, or it seems like a very big step… do not doubt the fact that HZ is always there to help out and make you believe in yourself. Just like with any other decisions in life regarding education, work, internship. Each choice teaches you something and gets you closer to what your really want - give yourself a chance!"