The master's is a joint degree of HZ University of Applied Sciences, Van Hall Larenstein and Rotterdam University of Applied Sciences: how did you experience studying at three different universities?
"Thanks to the cooperation of three different knowledge institutes for River Delta Development, you cover a varied area: the coastal area, the river area and the urban area, in other words the three core components of the delta. As you study at each university of applied sciences for six months, we always moved to the city of the study programme. That was great fun, because you live right in the middle of the area that you are studying. From Middelburg you can cycle to the sea in no time."
What is the value of this being a joint degree?
"The focus is different for each university of applied sciences. Rotterdam focuses on urban water and urban transitions, while Zeeland looks much more at salinisation, desiccation and the rise in sea level. And the river area is another gigantic area that sets itself apart. You cannot oversee these areas from a central point. The joint degree responds well to this: you learn to understand the delta from three different points of view. Moreover, you gain central knowledge that you can apply globally."
What did you learn at each of the institutes?
"Middelburg is right in the middle of the Zeeland delta. There, you really learn how to protect the coast from storms by means of sustainable, multifunctional dikes. You look for combinations with coastal protection, such as saline cultivation and energy generation. Every intervention has an impact on society and you learn immediately how complex each transition is.
At Van Hall Larenstein, the focus is on the Lower Rhine basin. Here, you have to deal with river water levels that rise rapidly due to extreme precipitation, while at the same time agricultural areas wither due to persistent drought. Here, you learn to devise systems that are adaptive and offer solutions for the extremes of climate change.
In Rotterdam, delta management coincides much more with people management. You focus on an urban delta in a densely populated area, where you also have to think about issues such as inclusiveness and poverty."
Article continues below photo.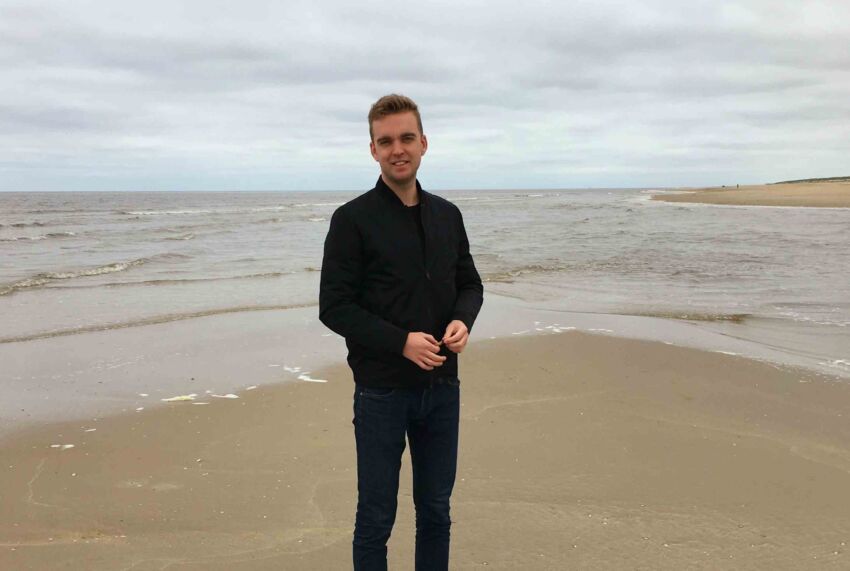 What part of your study stood out for you?
"One of the most impactful parts was the history of the North Sea flood of 1953. When you live below sea level, it makes a lot of impact. You speak to survivors and see the sites where the flood occurred. That was very instructive.
Another special moment was a short documentary I made about the IJssel river. From Kampen to Westervoort, I interviewed those involved and gained a completely new picture of what the river means to these people. And that is much more than you would think at first."
Where do you work now?
"I work as a researcher in sustainable river management at the University of Applied Sciences in Arnhem and Nijmegen, within the Sustainable River Management chair. Just like the master's, it is about rivers. For example, I am currently doing research on extracting plastic from the Mekong river delta in Vietnam. But I still have a long way to go, and I hope to obtain a PhD on the subject."
What is your advice to others considering this master's?
"If you want to deal with sea level rise, climate change, increasing drought, but also area and transition management, I recommend this programme. It is a practical programme for both professional and personal development. The master's level really challenges you to go the extra mile."
Read more about River Delta Development at HZ University of Applied Sciences