Global Project and Change Management: Kiara wanted a mixture of sustainability and economics
Why did you choose to study GPCM?
"I wanted to study a programme that mixes sustainability and economics, and something not very specific. The Global Project and Change Management (GPCM) programme is broad; we study many subjects and learn a lot. Furthermore, I really like that each semester has a theme (water, energy, food, and vitality). So far, I did my first semester around the theme of water. Moreover, it is only small classes (we are only seventeen) which is in my opinion an asset to progress faster."
Why did you choose HZ?
"I came across this university at an international student fair in France. Among all the universities presented, HZ was one of the few universities to offer a programme such as GPCM. Furthermore, the several opportunities to go abroad during the four years attracted me. Indeed, we have a minor and an internship that we can do abroad. HZ was also the most affordable.
The location was very appealing, just a 20 min bike ride from the sea. Moreover, the university is very modern and close to the student housing (APV campus).
This university facilitates the integration of new students. Many events (festivals, trips, gala) are organised by HZ. The students have also the opportunity to play many sports such as table tennis, volleyball, dance, etc."
How was the transition from your home country to the Netherlands?
"A few weeks before coming here, I was still anxious about going to a totally new place. Nonetheless, since the first day I arrived, I met a few of my classmates. There were lots of parties and events to meet new people. My transition was surprisingly very easy. In the Netherlands, almost everyone speaks English, so I had no problem regarding the language.
The only thing that I am still trying to adapt to is the weather. Most of the time it is cloudy or raining."
What is the most valuable part of your studies?
"Every week, we have something called 'Inspirational Friday'. Every Friday, we gain more experience/knowledge on a specific topic. For instance, we talked about indigenous people in New Zealand, we participated in a protest against women's violence, we did a beach clean-up, etc. Compared to universities in France that are very theoretical, the GPCM programme at HZ is very practical and that's what I like the most."
Article continues below photo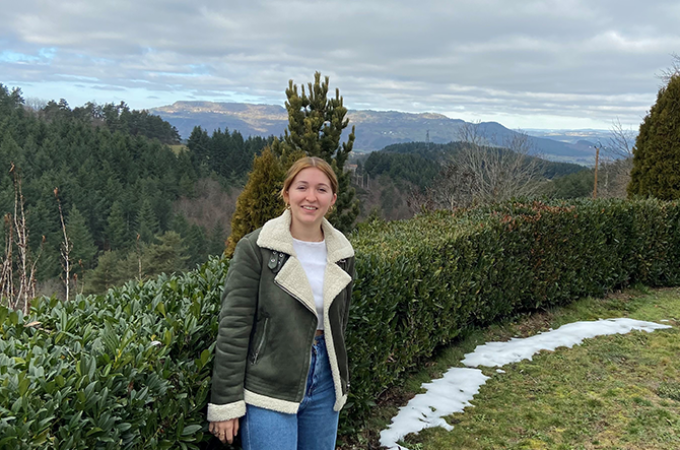 What has been the most interesting project you have worked on?
"So far, I have only worked on two projects, one in class and one during the 'wet week'. I would say that the most interesting project was the one I had during the 'wet week'. I worked with fourth-year students and they had more experience and knowledge than me. They really helped me, so everyone could really be involved in the project and learn from each other. Our project was about creating a fully circular chain from BLUEWAVE products (ocean waste). Our team decided to create a chair that can be recycled and reused. This project was very interesting and also linked to my programme. I gained a lot of knowledge, especially on sustainability."
What has been the highlight of your studies at HZ?
"A specific highlight of my first semester would be the submission of my portfolio. This really finalised my first semester and allowed me to have a great overview of what I have done in the last few months. A general highlight of my first semester would be the friends I have made so far."
What would you like to do after graduation?
"I am only in my first year, so I am still unsure about my future. I think that I will do a master's after my bachelor's. For the moment, I would like to work in an NGO, like WWF, after my studies."
What would your advice be to a student applying to HZ?
"Look for accommodation as soon as possible. It is quite difficult to find places in the Netherlands. So I would advise the student to look at the different campuses in Middelburg or Vlissingen. I am currently at the APV campus just in front of the university in Middelburg.
Also, it is good to check your credit card. I have a visa card and it is not accepted everywhere. So, it is more convenient to have a Dutch card.
Moreover, if you want to work it is important to know that you will need Dutch insurance.
And above all, the most important is to have a bike. Everyone is biking in the Netherlands."