Civil Engineering: read what Rahaf has to say about the programme
Why did you choose to study Civil Engineering?
"I've been interested in Civil Engineering since I was young. My uncle used to work as a civil engineer assistant and since I was about twelve years old, I used to go to work with him and see what he does. So it was natural for me to go for civil engineering."
Article continues below photo.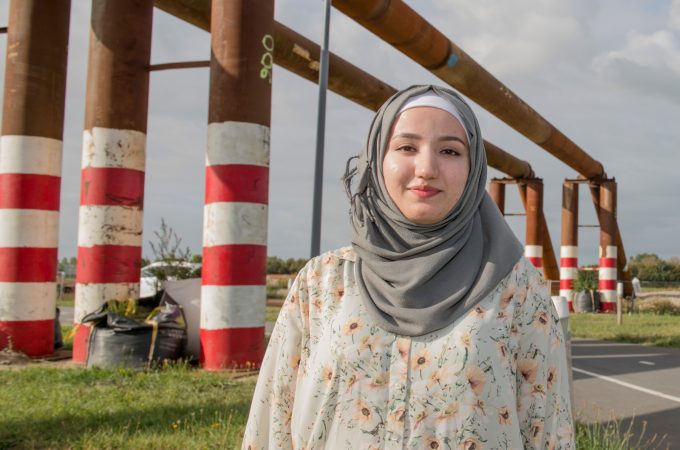 To whom would you recommend studying Civil Engineering?
"You have to like puzzles, like mathematics and a little bit of physics, and be creative. You should be a good team player. You will need to be able to work with other group members, go to clients and ask them questions about the project you're working on. So you need to have some people skills."
What is your favorite part about the study programme?
"The projects that we do. Each semester we have different projects. Right now we're working on the port in Terneuzen. In the first semester of the first year I was appointed chairwoman at one of our projects. You connect the team members with the project leader, assign tasks, make sure all team members meet deadlines. At first I was a bit nervous about being chairwoman. We just met each other and I didn't know what the teachers expected us to do, but I realized I'm kind of meticulous and it turns out I'm a natural project leader."
Why did you decide to study at HZ?
"At first, I wanted to go to Delft but the study programme is in Dutch. At HZ you can study in English. Also, HZ really takes care of you and helps with accommodation, visa, everything you need to come here. From day one they take care of you, so you don't really have to think about something like accommodation, which I think is the most important thing when you come to a different country to study."
How would you describe the province of Zeeland to someone who is not familiar with this region?
"There is more of a chill vibe here than other places I've been. It's close to the sea. The places where the university and campus are located, are very quiet, but there are still activities, especially in summer. Because it's quiet, you can focus on studying. With a cinema and library next to the beach there is a lot you can do, but not too much to get distracted from studying."
Any plans on what you will be doing after finishing your Civil Engineering studies?
"I'm not sure yet. For my minor next year, I want to go and do the pre-masters at University of Twente, so maybe after the programme if I decide I want to continue studying, I will go and study for a Master's degree there. But if not, I plan to find a job, maybe here, maybe abroad. I'm not sure yet. The only thing I know now is if I want to continue studying, it will be at University of Twente."
Read more about Civil Engineering at HZ University of Applied Sciences