Civil Engineering: read what Emy has to say about the programme
Why did you choose to study Civil Engineering?
When I chose the Civil Engineering study programme, I wasn't sure what exactly I wanted to do yet. All I knew was that I wanted to work in the field of construction. I grew up with a grandfather who worked in construction and it really inspired me. The area I grew up in has hurricanes and sometimes even floods. That too made me passionate about Civil Engineering as I want to be able to help with flood control as an engineer."
Article continues below photo.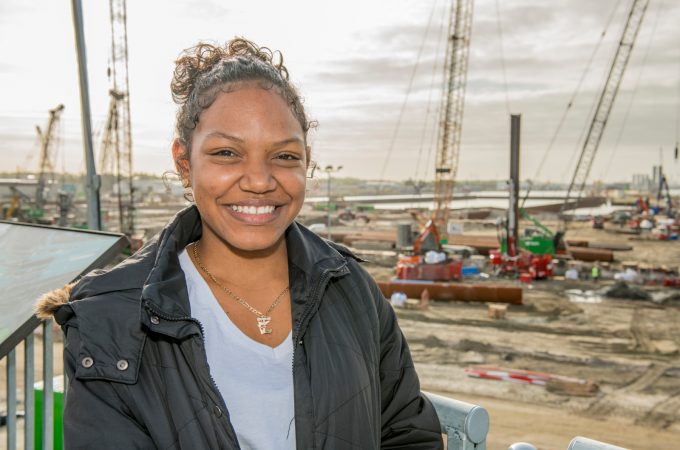 To whom would you recommend studying Civil Engineering?
"Someone who loves to analyze and solve problems, who likes challenges, has a creative personality, is very precise. A person with these qualities should really consider becoming a Civil Engineer. A lot of people don't really know what a Civil Engineer does. I always say it's very broad, much broader that the work of an architect. With Civil Engineering you have different portfolios, different professions you can fulfil, relating to structure or traffic design. The aspect of Civil Engineering I am most interested in is water resources."
Why did you decide to study at HZ?
"I knew that there was a lot of expertise in this field in The Netherlands and I wanted to find an English study programme. My high school mentor told me about HZ and the possibility to study in English. So, the fact that HZ offers the programme in English made the choice easier. I was also spoke with a student ambassador about what HZ is really like, to make sure I was making the right choice. He told me the study programme at HZ is more practical rather than theoretical and how we carry out projects with real companies. I learn more this way, instead of just reading from a book."
Any plans on what you will be doing after finishing your Civil Engineering studies?
"My goal is to study at TU Delft. After I graduate from HZ, I plan to move to Delft, finish my master's and see where I go from there. I really want to do something that will impact the world so it can become a better place, to build structures in ways that don't damage the environment but improve it instead."
What would you say to international prospective students who are considering studying at HZ?
"When you study abroad, you get a different perspective which you won't have if you stay just where you live now. You become more open to the world, not closed off or narrow-minded. You get to see different things, gain a different perspective. Also, Zeeland, where HZ is situated, is a quiet place without distractions so you can focus on studying. You're less tempted to go out and there isn't a lot of crime either. Middelburg is a small town, if you go to the same places regularly, people will know you after a while."
Read more about Civil Engineering at HZ University of Applied Sciences