Civil Engineering: Costanza loved the opportunity to get a theoretical and practical foundation
Why did you decide to study at HZ?
"I applied to over 20 universities both in Australia and in Europe, but no university offered such a diverse and innovative programme as HZ University of Applied Sciences. Apart from the fact that the programme implemented both practical experiences and internships throughout the years of study, they also offered a February intake which is the main reason I decided to enroll here. In fact, my studies prepare me for the future, meaning that students get both theoretical base and the practical side of being a Civil Engineer."
Why did you choose this specific study programme?
"I started my secondary education in a culture and literature school in Italy, but after three years I realised I wanted to study something related to mathematics. This is the reason I chose to follow scientific lectures during my year abroad in Australia. There I got introduced into the world of engineering and who knew it was going to be so vast! I looked at different engineering programmes and decided to go for Civil Engineering due to my great passion for superstructures and architecture."
What is the most valuable part of your studies?
"The amazing opportunity to have internships and work on real projects during the study prepares every student for the work they might pursue in the future; and I love this about the HZ University of Applied Sciences. In my second week at HZ I already worked in the concrete lab, where I created a concrete cube and tested it. I sill have the cube at home! In only two years I got to experience what it is like to work and prepare a preliminary design for different clients, such as Dutch municipalities and Dutch companies. Over two years I worked on four different projects and when I started my internship I knew how to tackle the project I was assigned to."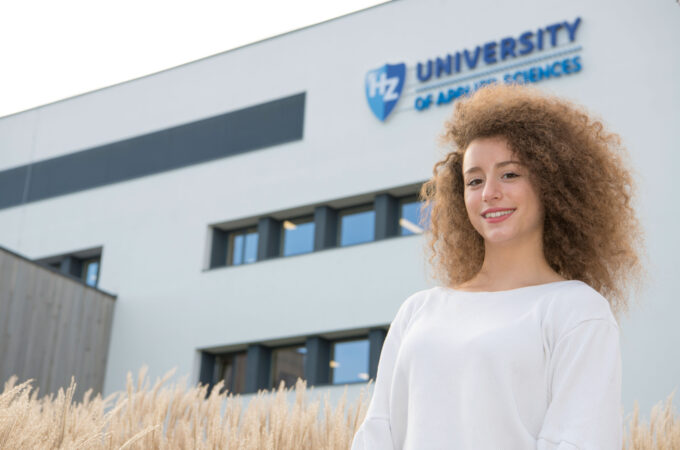 Tell us about your internships and your minor. What were your experiences?

"I decided to stay in Middelburg and move a couple of meters to attend the University College Roosevelt (UCR) because it is a research university. Experiencing a semester in a research university enriched my cultural luggage, as well as stimulated my interest and study skills. The differences in the whole system challenged me in adapting quickly and study harder for subjects I would never do at HZ. This resulted in such a high reward for myself: I would've never thought I could go back to studying culture and literature. I am very glad I took this decision as I met wonderful people, went through wonderful adventures and had wonderful times.
For my internship, I decided to prioritise the company type and projects, rather than the location. After much research and perseveration in contacting different companies, I managed to find an intern position at IDOM in Bilbao, Spain. I chose this company as one of my options because it is an Engineering and Architectural Consulting agency. Since I applied to the HZ, I knew I wanted to specialise in structures and branches of Civil Engineering that would relate to Architecture. Having the opportunity to experience a whole six months in a working environment is rare, so I decided to fully enjoy and take advantage of this time. My workplace in Bilbao greatly helped me achieving this: my colleagues were instantly very welcoming and incorporated me directly in their activities. Moreover, the fact that the company is so international I had no problem with the language even though I took every opportunity to improve my Spanish."

What would your advice be to a student applying to HZ?
"Choosing the right university is a difficult task, maybe one of the most important decisions you must make that will define your future. All I can suggest is to not be scared and contact people, ask questions, ask about their experience and you will have a better understanding what your future path is."