Improved
The 'IMPROVED' project runs from February 1st 2016 to December 31st 2019. A wide range of partners researches techniques to purify freshwater for the industrial sector. Currently, the industrial sector uses a lot of fresh water - a scarce resource - that could also be used as drinking water. If the industrial sector is able to purify and reuse fresh water, less wastewater will be discharged and more fresh water will be available as drinking water. The effect of the water quality on installations and processes in the industrial sector is tested in a special research installation. The project is subsidised by the European Interreg V-programme of Flanders and the Netherlands.
Farnoosh Fasaei and Hans Cappon from HZ University of Applied Sciences are involved in this project. Hans is project leader at HZ and supports Farnoosh with data analysis. Together with Ghent University Farnoosh is responsible for sampling, monitoring and data analysis at the IMPROVED demo plant, which was first located at Yara in Sluiskil, then at BASF in Antwerp and now at Dow Benelux in Terneuzen.
In February 2019 HZ student Han Cao starts as an intern in the Dow pilot. He is supervised by both Ghent University and HZ.
Three aspects are researched. Firstly, several different techniques to purify local streams are tested side-by-side. This will allow for a proper comparison of the techniques. Secondly, the influence of the purified water on the distribution network and pipelines is examined. The industrial sector would like to know if corrosion or biofilm occurs in the pipelines with water of different qualities. Finally, the influence of purified water on on-site installations is researched. For instance, what is the influence of certain residual contaminations if purified water is used in steam boilers or cooling towers? This makes it possible to determine which quality the water must have at a minimum for a certain process.
Research group Water Technology

The main responsibility of research group Water Technology during this project is measuring and analysing. Students that follow a research minor, students that are on work placement or students that graduate on this project are involved in measuring, analysing and interpreting the data. On the basis of the analyses, recommendations are made to improve the process that will help to make the reuse even more sustainable
Consortium

The consortium comprises of Ghent University (prime mover of the project), Evides, BASF, Yara, Dow, IEC, Vito and HZ. The Ghent University and IEC have built a research installation for the purpose of this research project, which is installed at the participating factories and tested in order to simulate reality as much as possible.
Project 'Improved' is financed by the Interreg V programme of Flanders and the Netherlands, a transborder collaborative programme which receives financial aid from the European Regional Development Fund. For more information, please visit: www.grensregio.eu.
At this moment, Justin Wens, intern of HZ University of Applied Sciences works at the pilot at BASF. The inverse osmose (RO), ionenwisseling (IX), membraandestillatie (MD) and elektrodialyse (ED) are being tested.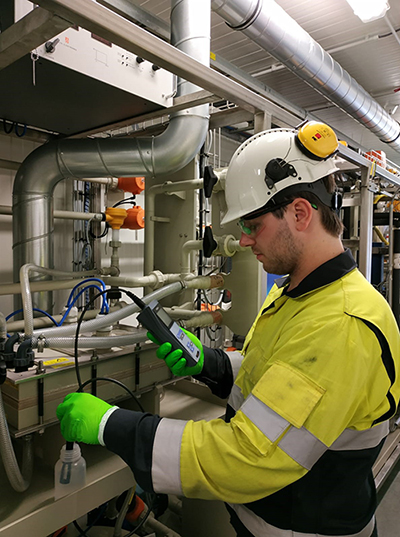 With a financial contribution of