About JRCZ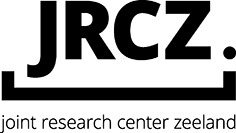 The Joint Research Center Zeeland (JRCZ) is a joint research laboratory for students, researchers, companies and government bodies. The new institute is located next to the current HZ location at Het Groene Woud in Middelburg.
Collaborating on innovation
JRCZ tackles issues that are relevant to a delta area such as Zeeland. Students from Scalda, HZ and University College Roosevelt (UCR) will be working closely together in an inspiring and innovative work environment with modern research laboratories and practical spaces.
Connected to the region
The acquired knowledge can be applied in many companies. JRCZ provides a connection between the knowledge institutions, research facilities and the business community in the region. Other research institutes - for example the 'Koninklijk Nederlands Instituut voor Onderzoek der Zee' (Royal Netherlands Institute for Sea Research) and Wageningen Marine Research - and companies can also make use of the research facilities.
Research themes

The research themes are closely related to Zeeland's DNA: water, energy and food.